PROFILE OF VICTORIA HAMAH PARLIAMENTARY CANDIDATE FOR ABLEKUMA WEST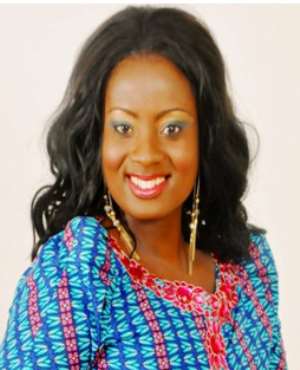 Victoria Hamah is a public spirited women's rights campaigner with strong background in national politics and a sound record of professional media experience.
A member of the Government Communication Team, Victoria Hamah was a member of the formidable NDC Youth Campaign Team in the 2008 general elections.
A Branch Women's organiser, she was very instrumental in the 2008 constituency campaign that ensured the capturing of the Parliamentary seat from the then incumbent NPP.
Victoria matches her political life with an outstanding media career that in part accounts for her high level of public recognition. Producer and hostess of compare the Records a political talk show that interrogates comparatively policy initiatives and developments of the current and immediate past regime. Co-Hostess of the famous Real Talk show on TV3 she is now hostess of Chocolate Factory on Cine Afrik on Multi TV – a talk show that addresses the psychological, emotional and the general conditions that underscore intimate relationships.
Victoria Hamah is Executive Director of The Progressive Organization for Women Advancement (POWA), a Network of public spirited youth dedicated to protection of Women's Rights as a link to broader social justice causes. POWA has participated in several gender conferences in South Africa, Nigeria and the United States relating to entrepreneurship, Conflict and Wars, refugee crisis, violence against women, HIV / AIDS, Reproductive Health and Poverty.
A former student leader Victoria Hamah was an executive officer of the National Union of Ghana Students (NUGS) with the responsibility as National Women's Organiser.
Victoria Hamah has several publications in local and international journal and periodicals to her credit, graduated from the University of Ghana in the year 2005 with a Bachelor of Arts in Political Science and currently pursuing Bachelor of Law (LLB) at the University of London. She has also enrolled for a Masters of Arts programme in Human Rights and Global Ethics at Leicester University.