September 2, 2012
|
Election News
POOR TURNOUT AT EXHIBITION CENTRES in Tamale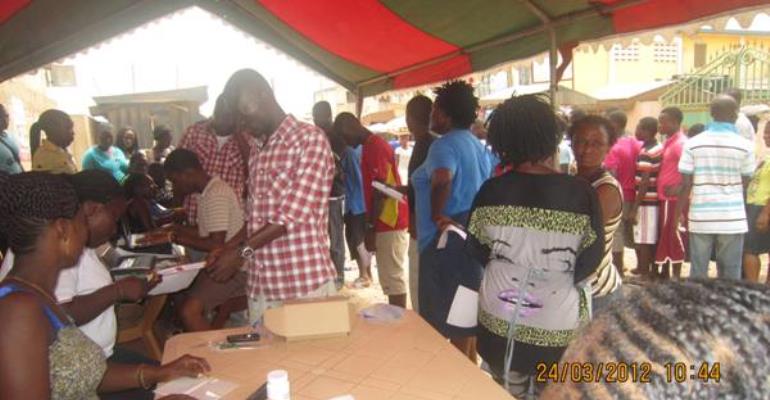 The Biometric Voter register Exhibition started at exactly 6:00am on Saturday in the Tamale metropolis in every registration centre. The exercise witness poor attendance as almost every exhibition official sat idle.
This news paper was told that, the poor turnout is as a result of poor publicity.
Adams Yidana, an Exhibition Officer at Third Road in Russian Bungalows, a suburb of Tamale Metropolis, said the few applicants who came to check on their details complained of limited publicity on the exercise.
At one of the registration centre we got to, only 20 people out of 927 registered voters had come to check their details making the exercise boring as the officials complained to us. The officials cautioned that, politicians should workout with EC for more intensive publicity before many people would be denied voting on Election Day because of setting biometric omissions.
Mr. Tanko Computer, regional coordinator for election 2012 for the NDC, said the exercise would last for ten days ending on September 10th. Mr Computer however called on residents in Tamale to come and check their details to avoid any embarrassment on voting day 7th December.
I believe that , by Monday onwards people would surely come out to check their records , Mr. computer added.
The other registration centres this paper visited were, Kalpohini Senior High School, Inter Royals and Kalpohin Home Science, all in the Tamale North Constituency. The exercise was without any security problems as all exhibition officials and centres were peaceful and calm.