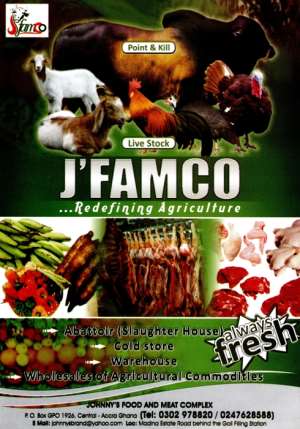 Accra, Aug. 18, GNA – Mr John Ohene Agyekum, Director of Johnny's Food and Meat Complex (J'FAMCO) has called on the Ministry of Food and Agriculture and government to assist individual efforts in promoting agriculture in the country.
He said this would encourage more entrepreneurs to venture into the sector to help provide ready market for farmers, food security and create job opportunities for the youth who are coming out from the country's tertiary institutions.
Mr Agyekum, who took the Ghana News Agency round to inspect his food and meat complex at Madina Estates in Accra on Friday said; "it is sad that since I started the project for about a year now government interest is not forthcoming to help me in my efforts."
The complex, which is at the verge of completion, has a farm produce storage warehouse, cold store, slaughtering and dressing apartments for livestock and birds as well as a health inspection department. It also has a large parking lot for customers.
The company's hygienic abattoir provides instant slaughtering of about five cows, 40-50 goats and sheep and 50 birds for customers daily.
The Director said the main complex would come into operation when he secures the financial support needed, and that, the project when completed would create jobs for about 300 to 500 people in the area.
GNA