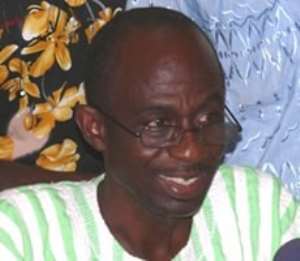 Johnson Asiedu Nketiah
A disqualified ruling National Democratic Congress'(NDC) member has vowed to place a court injunction on the party's primaries for the newly Sagnarigu Constituency in the Northern region.
Mohammed Abdul Salam who made the vow, together with Alhaji Mohammed Amin Adam Abio and Iddrisu Andani Mohasu were disqualified from the primaries at a vetting which was supervised by the NDC General Secretary, Johnson Asiedu Nketia.
The disqualification of the three party members did not go down well with some supporters of the candidates who converged at the Regional Coordinating Council, the venue of the vetting and threatened to visit mayhem on Asiedu Nketia as well as vandalize properties to register their dissatisfaction with the outcome.
It took a combined effort from a police and military patrol to dispel the angry mob who also threatened to disrupt the party's primaries on Monday.
But speaking to Joy News' Evans Mensah, Johnson Asiedu Nketia dispelled allegations he wanted to impose his candidate on the constituency as speculated by the mob. According to him, the NDC rules and regulations were upheld and those who did not meet the criteria were duly disqualified.
The General Secretary stated that they are not the least intimidated by the court injunction or the violence targeted at the upcoming primaries. He said "If at any point in time you yield to pressure or threats of violence, then you are saying that is the way to do politics in the country. And I don't think that is good for our democracy. "
He added that "…all that we need to do is to apply the law. Those who feel dissatisfied can appeal through the grievance channel which might eventually end in court…but at all time, we must uphold the rule of law in the conduct of affairs of our political party".
Abdul Salam who made it clear to Joy News' Evans Mensah he will be seeking a court injunction against the impending primaries however denied being responsible for the mob that gathered outside the RCC.