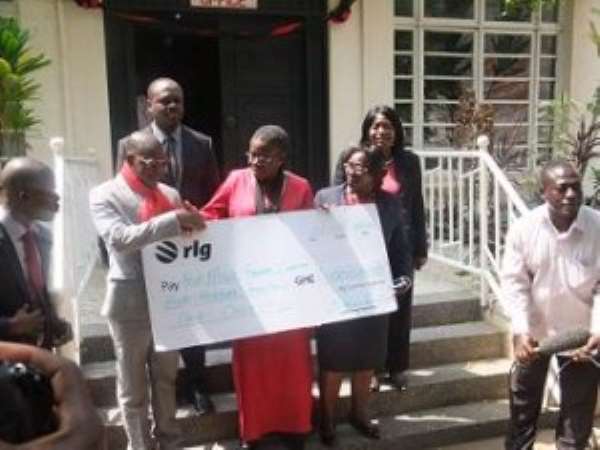 by Masahudu Ankiilu Kunateh
Mobile phone and computer assembling and training giant, Rlg Communication Limited has handed over an amount of five hundred thousand Ghana cedis (5 billion old cedis) to the government of Ghana, through the Prof. Mills Funeral Planning Committee towards the organisation of a successful funeral for President Mills, who died on July 24, 2012.
By the presentation, rlg becomes the first corporate entity to donate to the three day funeral event, which climaxes with the burial of the late law Professor on August 10, 2012.
The Chief Executive of Rlg, Roland Agambire, handed-over the cheque to the funeral committee leadership at a brief ceremony at the State House in Accra.
He said: 'just as I wrote in the book of condolence, Prof Mills was a mentor and a father not only to me, but to many of the country's youth, most especially those who benefitted from his Better Ghana agenda, under which the ICT module under the NYEP got expanded to benefit many of them.'
The funeral committee expressed gratitude to Rlg Communications Limited, for being socially responsible corporate organisation in the country.