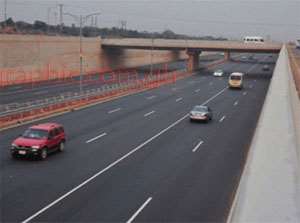 We have taken note of the various government interventions to keep our roads safe. A Legislative Instrument towards that direction is already in place.
The Police Motor Traffic and Transport Unit (MTTU) is already undertaking an educational programme in the country; it is our hope that when the enforcement of the legislation begins, excuses would not be entertained.
The various interventions notwithstanding, accidents have continued to snap lives out of innocent persons who are just minding their business.
With the introduction of modern gadgets such as mobile phones and others, the importance of an accompanying legislation has become even more appropriate given the accidents which have occurred resulting from the reckless use of such gadgets.
It is unfortunate however that anytime discussions about accidents are made, the role of pedestrians is overlooked with the attention focused largely on motorists.
If only such pieces of legislation could deal with pedestrians so that they too would be compelled to conduct themselves responsibly, while using public roads and streets, we would have taken an important step towards ensuring road sanity thereby protecting lives.
Motorists will agree with us that some pedestrians, while crossing roads, often do so in a manner which opens them up to danger.
They do not only ignore road signs so they can cross at designated places such as zebra crossings, they show recklessness such as walking slowly and expecting motorists to mandatorily slow down for them.
This is not to say that motorists cannot be blamed in some instances. We have not forgotten about drunk driving on the part of some motorists including over-speeding.
Our take is that when we consider the recklessness of motorists, we should remember also that pedestrians too endanger themselves as a result of their recklessness while using roads and streets.
With the introduction of mobile phones, the recklessness has even worsened. Some pedestrians will cross streets while their earpieces are fixed to their ears. Others do so without observing the basic rules of observing left and right before crossing the road, a basic rule.
In some countries, reckless pedestrians are subject to court action and this is what we are seeking here.
Discipline on roads is a responsibility not limited to motorists but a shared task with pedestrians. It is only when this realization dawns on us and we take legal steps to enforce them that measures to ensure road safety would be complete and meaningful.
There have been instances where parents allow kids to cross very dangerous roads in our cities, thus endangering the lives of these innocent children, especially when they close from school. Such irresponsible conduct must be stemmed through the appropriate legislation.