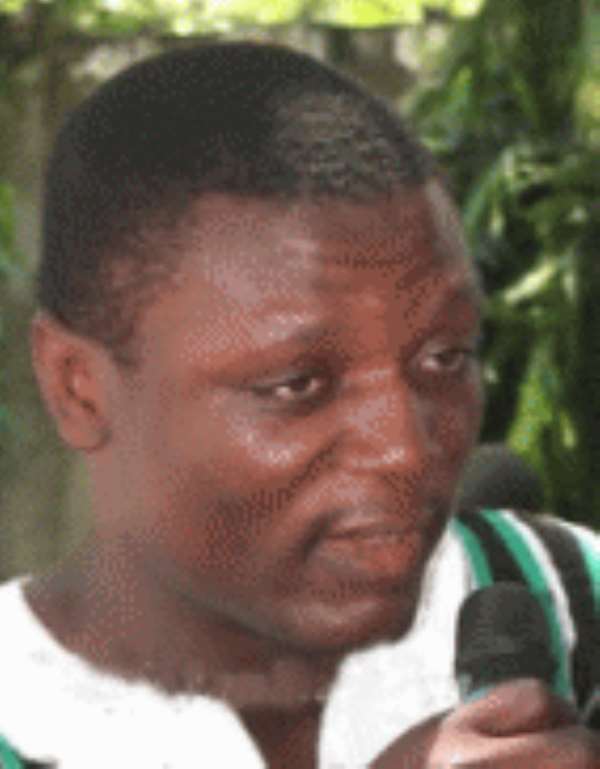 Mr Kofi Adams - Fighting his suspension in court
Counsel for Mr Kofi Adams, the suspended Deputy General Secretary of the National Democratic Congress (NDC), Mr Stanley Ahorlu, is expected to withdraw an appeal against the Fast Track High Court's ruling which directed him and the party to resolve their differences.
Mr Ahorlu had appealed against the High Court's ruling, dated May 10, 2012, which had ordered his client and the NDC to resolve their differences and report back to the court.
However, at the court's sitting in Accra Wednesday, Mr Ahorlu announced to the court, presided over by Justice S.K. Asiedu, that the Court of Appeal had fixed July 4, 2012 for hearing of Mr Adams's appeal and, for that reason, he needed a short adjournment to enable him to formally inform the Court of Appeal that his client was no longer interested in pursuing the appeal.
The court adjourned the case to July 12, 2012.
Although parties in the dispute were not willing to go for arbitration, the court, on May 10, 2012, stamped its authority and ordered them to settle their differences.
According to the court, Section 7 Sub-section 5 of the Alternative Dispute Resolution Act gave it the authority to order disputing parties to arbitrate.
The court said the NDC Constitution also gave feuding parties an alternative to resort to internal dispute resolution mechanisms.
In that instance, the court held that it found out that the parties had not exhausted the NDC dispute resolution mechanism but returned on June 13, 2012 to announce that negotiations had broken down.
The National Executive Committee (NEC) of the NDC suspended Mr Adams on March 22, 2012 because he was alleged to have said in a telephone conversation that he was plotting to ensure that President Mills did not win the December presidential election.
He was alleged to have noted on the said audio recording: "Atta Mills is not a person going to be President of this country after he finishes his first term. Whatever it takes for him to go to opposition, we'll do it."
Mr Adams, however, denied the voice being his and sued the party, seeking a declaration from the court that his suspension from the NDC was a severe measure imposed by the defendant without due process and contrary to the rules of natural justice.
In the substantive suit, Mr Adams, who is also the Spokesperson for former President Jerry John Rawlings, is requesting the court to declare his suspension null and void because due process was not followed by the NEC of the party.
He is also seeking a declaration that his suspension was void, inoperative and of no effect.
He is also praying the court to award general damages and costs.