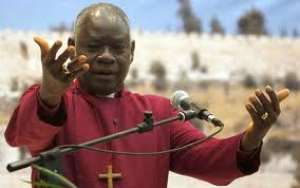 Accra, June 24, GNA – "The Church today is in great turmoil suffering from internally self-imposed persecution and suppression of the Word," the Most Reverend Dr. Peter Akinola, a retired Archbishop and Primate of Anglican Church of all Nigeria, Sunday said.
Most Rev. Akinola said it was unfortunate that in recent times, the body of Christ had been turned into a body of crises.
"Work of the Ministry has been made much more difficult over the years for the leadership of the Church by fellow servants of God," he stated.
"When we turn every church service into a fund-raising event, every sermon is about money, when we feed the people with theological jargon and not the spiritual milk for their nourishment, we must be aware that the Lord, the Owner of the flock is watching."
In a sermon at the consecration of Venerable Dr Daniel Silvanus Mensah Torto in Accra, Most Rev. Akinola said, the Church additionally, was facing external aggression by militant Islamists and acute materialism.
Venerable Mensah Torto, was consecrated by the Most Rev. Dr Justice Ofei Akrofi, whom he would succeed as the Ninth Anglican Bishop of Accra, when he retires on October 29, after attaining 70 years.
Most Rev. Akinola said the Church today, however, needed loving, humble and selfless bishops, pastors and teachers, who would not be wolves to devour the sheep, but lead them to greener pastures to feed, seek the lost and up-lift the weak.
He noted, "Within our own global Anglican Communion, the Church has been suffering painful divisions and fragmentation, and has been weakened by controversies surrounding heretical challenge to faithful Biblical Orthodoxy, and denial of the basic tenets of the faith."
The retired archbishop said he was glad that the Most Rev. Mensah Torto possessed the qualities of a true priest.
Most Rev. Torto, 53, was made deacon on July 24, 1983 at the Cathedral Church of the Most Holy Trinity and ordained priest on August 12, 1984, at the St. Andrew Anglican Church, Abossey-Okai.
He was appointed the Parish priest of St Joseph Anglican Church, Kaneshie, in December 1990, where he led in putting new life and spirit into the church and the construction of a new church was completed.
Most Rev. Torto was appointed the Parish priest of St. Barnabas Anglican Church, Osu, in June 1995, and installed an Honorary Canon of the Cathedral Church of the Holy Trinity in Accra to the Stall of St Ambrose on March 1, 2000.
In January 2001, he was transferred to St. Francis of Assisi Anglican Church, Mamprobi as the Parish priest.
In October 2002 he was given an additional duty as the Assistant Diocesan and Synod Secretary (now Director of Programmes) and in July 2004.
He is married to Gladys Naa Aku Torto (nee Glover-Addo) and blessed with four children.
Most Rev. Justice Ofei Akrofi born on October 29, 1942, at Koforidua, had his basic education at St. Peters Anglican Church School in Koforidua.
He continued to Anglican Church School, Koforidua, Anglican Middle School, Sefwi Ahwiaso, Ghana Secondary School-Koforidua, and studied at the Central Connecticut State University.
The Most Rev. Ofei Akrofi, who he would succeed, after 16 years of service, was ordained in 1976 and served as Chaplain at the Anglican Foundation, Adisadel College, Cape Coast, from 1976 to 1978, and as Resident Chaplain of Accra Ridge Church, 1971 to 1981, after which he was appointed Provost of the Cathedral Church of the Holy Trinity, Accra in 1982.
He was elected and consecrated Diocesan Bishop of Accra on September 8, 1996, and after 14 years as Provost, elected and inducted Archbishop of the Church of the Province of West Africa in 2004.
In 2006, the Government conferred on him the national award of Companion of the Order of the Star of Volta.
His achievements include the establishment of a Lay Ministerial Training School in St. Barnabas Church, Osu, which has so far graduated over 700 Lay Pastors and Sunday School Teachers.
Most Rev. Ofei Akrofi is married to Dr Maria Araba Akrofi and has two sons.
GNA