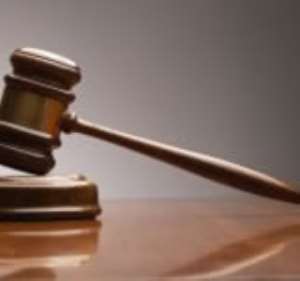 Axim WR, June 20, GNA – The Axim District Magistrate Court has returned a piece of land belonging to one Emmanuel Mensah and family to them after months of court litigation.
case was between the plaintiff and Aunt Kaya and John Nao both defendants in that matter.
Mr Bitam Lari, the presiding magistrate said the plaintiff's evidence in chief stated that he hails from Axim in the Western Region but works at Tarkwa as a miner and visits home occasionally to acquaint himself with development at home.
He said, on one of such visits he noticed that someone had removed parts of the foundation of his building on his family land and rather laid blocks on it.
It came out later that John Nao, a defendant who stays on the land had started renting and selling portions of it to traders and interested individuals for various activities.
The plaintiff questioned Aunt Kaya a co-defendant who gave her the authority to remove the blocks?
She pleaded for a peaceful settlement with the explanation that she was only building a container and was ready to release the land anytime the plaintiff wanted it.
The plaintiff however did not agree to the terms and insisted that she stopped work.
Aunt Kaya thereby dragged the plaintiff to court where it came out that Nao, a family friend and caretaker of the land was behind the act.
The court after cross examining the two defendants said Nao who is not a principal family member did not have that capacity to rent, lease or sell out the land in question.
"The law is that in the sale of, or renting of family property must be done through consensus and by the principal members of the family," the court said.
Mr Lari said Aunt Kaya gambled with her money and resources by mounting her container shop on somebody's foundation.
The court had therefore placed a perpetual injunction against the two defendants especially Nao and awarded a cost of GH¢ 400 to be paid by the defendants to the Plaintiff.
GNA