CPP replies Archbishop Akwasi Sarpong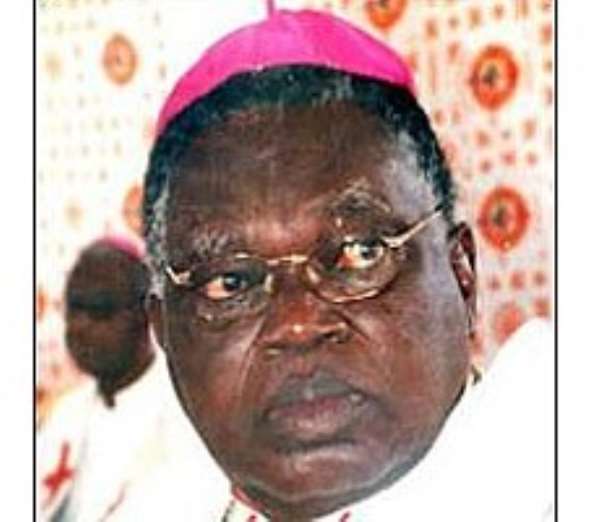 Archbishop Emeritus Peter Akwasi Sarpong
The Conventions People's Party has reacted to a recent lecture addressed by retired Metropolitan Archbishop of Kumasi, Archbishop Emeritus Peter Akwasi Sarpong, which the CPP describes ad demeaning the person of Ghana's first President Dr. Kwame Nkrumah.
The CPP in a statement issued on Tuesday, commended Archbishop Emeritus Akwasi Sarpong for praising Dr. Nkrumah but was unhappy at the language used by the Archbishop to describe him.
Read below the full statement:
The above are the words of Archbishop Emeritus Peter Akwasi Sarpong at a public event organised by the Centre for Freedom and Accuracy on 13th June 2012. The theme for the public lecture was "Truth, Integrity and Democratic Development: How Ghana is Faring".
The Archbishop during his presentation singled out the Convention People's Party (CPP) and the late Dr. Kwame Nkrumah by name and praised the Party and the first President for being the greatest contributor to Ghana's development and in the same breath sought to denigrate the late President in very uncomplimentary language.
The Archbishop subsequently went on to make innuendoes about other political parties without mentioning the names of any other Presidents or political Parties and leaves the public to connect the dots and draw its own conclusions.
Archbishop Sarpong is a sociologist and a great respecter of Ghanaian traditions, why he chose to critic the dead who cannot defend themselves and not mention the living begs for explanations.
Coincidentally the organizers of the programme are known sympathizers of a particular political party ideologically opposed to the CPP although they want us to believe they are neutral.
The fact remains that sympathizers of two political parties in Ghana today have formed and are hiding behind all manner of civic society organizations with pretentions of neutrality even when it is evident they are not.
Ironically the Executive Director for the Centre claims that such lectures will be the centre's contribution to free and fair elections come December.
The CPP will like to believe that the Centre for Freedom and Accuracy is not just playing the role of politicking under the guise of a civic organization.
The CPP will like to see the Executive Director distance itself from unfair comments or taunts directed at political parties on its platform if it truly seeks to contribute to a free and fair election come December 2012.
The Convention People's Party finally registers its protest at the language used by the Archbishop to describe the first President of Ghana, and hope that he has not allowed some personal prejudice to mar his better judgement.
Short of this the CPP believes that as an eminent son of the land the Archbishop made a good presentation and agrees that 'To be Truly Ghanaian, is to be Truthful'.
Nii Armah Akomfrah
Director of Communication
www.conventionpeoplesparty.org



Story by Ghana/Myjoyonline.com