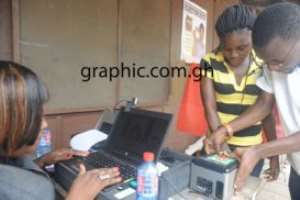 The Electoral Commission (EC) will undertake mop-up biometric voters registration in 187 centres in eight regions between June 9 and 10, 2012.
With the exception of the Central and Brong Ahafo regions, the exercise will take place in the Western, Greater Accra, Volta, Eastern, Ashanti, Northern, Upper East and Upper West regions.
The regional breakdown of the registration centres are: Western, 48; Greater Accra, 18; Volta, 5; Eastern, 3; Ashanti, 26; Northern, 55; Upper East, 15 and Upper West, 17.
According to the acting Director of Public Affairs of the EC, Mr Christian Owusu-Parry, the mop up was to offer those who could not register as a result of legitimate reasons during the 40-day exercise an opportunity to have their names in the voters roll.
He explained that the mop up had become necessary at some of the areas because during the registration, either the kit broke down or there were long periods of shortage of materials, denying a lot of people the chance to register .
He urged qualified applicants in the affected centres who had not yet registered to take note and register, but was quick to caution those who had already registered as voters to avoid registering again, since that would amount to double registration.
Mr Owusu-Parry explained that any such double registration would be detected.
He said those who would engage in double registration would have their names deleted entirely from the list before being handed them over to the police for prosecution.
The nation-wide novelty biometric voters registration exercise took off from March 24 to May 5, 2012.
About 45,000 EC officials were deployed to 23,000 registration centres across the country which were served by 7,000 kits.