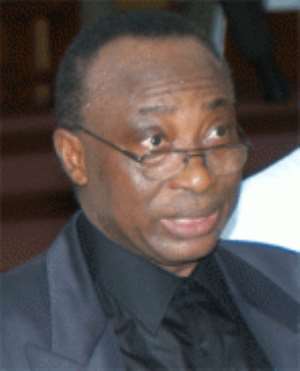 Major Osahene Boakye Gyan The former spokesperson of the defunct Armed Forces Revolutionary Council (AFRC), Major (Rtd) Osahene Boakye Gyan, has stated that he was the originator of the probity and accountability slogan, the principles on which the National Democratic Party (NDC) was formed.
According to him, anytime he heared people laying claims on logos and symbols of the NDC, he laughed because he could also claim the probity and accountability slogan.
Addressing a gathering at Atebubu in the Brong Ahafo Region Monday to mark his own version of the June 4 uprising celebrations, Major Boakye Gyan stated that if things were not done right and credit was not given to those who deserved it, he would rise up one day and claim the probity and accountability ideals as his perpetual property.
He also reiterated his claim that he was the architect and brain behind the June 4 uprising that saw the execution of three former military leaders; Lt. Gen. Afrifa, Gen. Acheampong and Lt. Gen. Akuffo.
According to him, he was the head of government and official spokesperson while former President Rawlings was only a ceremonial head of state, adding that there would have been no June 4 without him.
"It is interesting to hear people say I fought no battle; they didn't know what the battle was about in the first place. I was the one in charge, it was what I said that was law…If we wanted to take a decision, it was I who made them for commissioners of state to endorse at the Castle where I had my office", he stated.
The former spokesperson for the defunct PNDC also said that the Mills administration would win the December elections without the contributions of NDC founder, Jerry John Rawlings.
According to him, the Mills-led administration had done a lot to deserve a second term in office.
Ex-President Rawlings, on Sunday at a June 4 rally at Aflao, slammed the NDC and contended that the party had already lost the 2012 elections. He added that President Mills had failed Ghanaians and had led the country into a ditch.
But addressing a seperate June 4 rally at Atebubu in the Brong Ahafo region to clearly demonstrate that the rift between Mr Rawlings and his former confidante was not ending anytime soon, Mr Boakye Djan stated that the NDC did not need Rawlings to win an election.
He also rejected suggestions by the former President that the government would lose the December elections because it had rejected the ideals of the NDC.
"We are going to win the elections next time and at other times no matter what", Mr Djan said.
"I made Rawlings the ceremonial Head of State and a Chairman and I became the head of government, I represent the official spokesman, so I was totally in charge", he stressed.