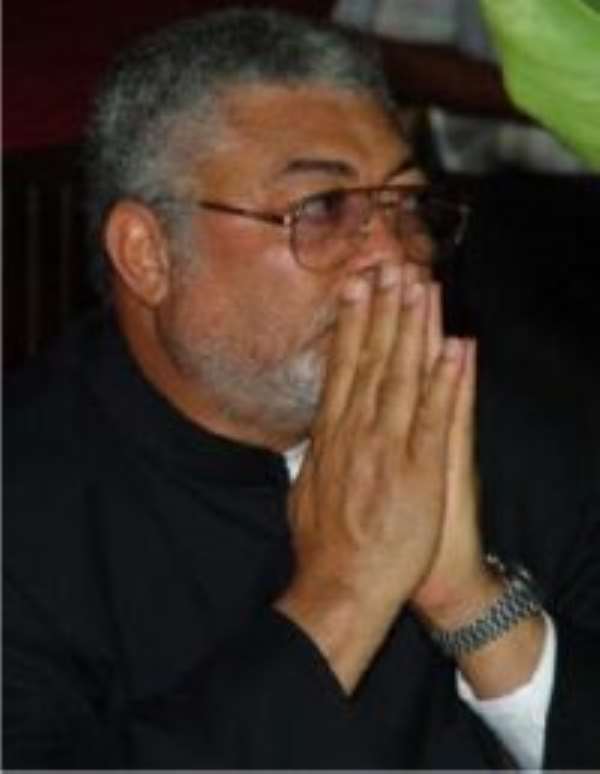 Information reaching the New Statesman indicates that loyalists of the Mills-Mahama-led National Democratic Congress administration are living in fear and panic, as they await yet another expected bashing from the founder of the ruling party, Jerry John Rawlings, during this year's June 4 celebration.
The NDC founder has been a major critic of the Mills-Mahama administration which he has constantly accused of deviation from the core principles of probity, accountability and social justice which are said to be the ideals of June 4.
A rally to commemorate the event is scheduled to take place at Aflao in the Volta Region, the electoral stronghold of the ruling party.
And to ensure low patronage of the event, functionaries of the Mills-Mahama administration are said to be wooing foot soldiers of the party through momentary inducement to stay away from the event.
Information available to this paper indicates that those who agree to boycott the event will be paid a sum of GHC50 each.
To ensure that they do not collect the money and later join the rally, arrangement is allegedly being made for the money to be paid at the same time the event will be taking place.
According to insider sources, the Mills-Mahama led administration is doing so to reduce attendance to the event, to create the impression that former President Rawlings no longer commands the kind of support he used to have among members of the ruling NDC.
Meanwhile, the Spokesperson for former President Rawlings, Kofi Adams, has charged the Enquirer Newspaper to show professionalism in it reportage.
He said this in reaction to the paper's Friday report which claimed that the New Patriotic Party was sponsoring the upcoming June 4 celebrations to the tune of $5 million.
Speaking on Adom TV, Kofi Adams stated: "The Enquirer paper has not been fair in this report, it is not a credible story and it should not be given attention," adding: "the rented papers cannot decide for the Rawlingses with their false reportage."
He advised the Mills-Mahama led NDC administration not to influence and induce supporters of the NDC with money so as not to turn up for the June 4 celebrations, warning that the founder of the party made them and can also unmake them.
"I would be glad if the NPP would participate in our June 4th celebration since we are all Ghanaians and we all share common ideology," he added.
Mr Adams advised the NDC to concentrate on bettering the lives of Ghanaians, which is their core mandate, rather than seeking to attack the founder of the party, given the least opportunity.
He added that the NDC government can only win the election through integrity and honesty "and that is what they lack. They are fighting for properties that do not belong to them."
 
By: Ameho Adjoa Felicia