Serial Killings Hit Volta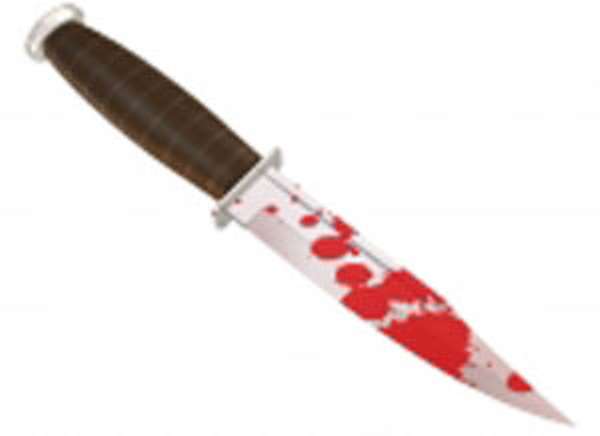 Knife
Ritual killings have so far claimed seven female victims at Vume, Tefle, Sokpoe and Kpotame near Sogakoe in the South Tongu District of the Volta Region.
The murders have scared residents as they follow a self-imposed curfew, especially since five of their colleagues have died through yet-to-be explained circumstances this year.
Two other women died under similar circumstances late last year within the same axis.
The latest body was found last Thursday morning, adding to those discovered on 10 th January, 22nd January, and 16th May, 2012 among others.
With these unusual killings, residents are blaming authorities for not doing enough to put an end to the serial killings.
The latest body is that of a lady believed to be in her early 30s.
The body, with legs wide open and covered with palm branches, remained in that state until at about midday when the police came for it, an eyewitness told DAILY GUIDE .
The body had ropes around the legs and hands, indicating that she was tied up by the suspected killers before she was snapped, with vital parts missing.
An anonymous resident living close to where three of the victims were discovered said they were found along the Accra-Sogakofe road between Vume and Tefle and all had their private parts cut off, with other vital parts missing, suggesting a case of ritual killing. Their intestines were either cut off or popped out, with some ceramic pots and cups placed around them. Some parts of their bodies were also pieced, suggesting that blood was drained from them, with their necks, arms and other parts tied with pieces of cloth.
The source put the number of discovered murdered persons, since the beginning of this year, at seven, with others saying eight. When contacted, the assembly members of Vume, Simon Hadzor and Tefle, Benjamin Amekudzi confirmed the report but added that the latest body was that of a lady from Sokpoe near Tefele.
They all expressed worry over the incident and noted that their people were currently living in fear.
A relative of the latest victim, who gave her name as Yayra, identified the victim as Cecilia Dakpenese from the Heviefeme family of Sokpoe.
She added that the victim, who was mentally challenged, had two children.
According to her, the lady left the house on the night of the murder and never returned home.
A presenter at a local radio station (Radio Tongu), Diemenu, told DAILY GUIDE that two of his colleagues met the girl at about 8pm near the bridge at Sogakofe.
The South Tongu DCE, Daniel Amelorku, who spoke on the station, noted that earlier incidents suggested that the victims might have been kidnapped from elsewhere, but this latest incident suggested that the perpetrators were close.
The Sogakofe Divisional Police Commander, Oscar Kofi Amenuveve, who also confirmed the incident, noted that he was yet to be officially briefed and therefore could not give any details.
He admitted that there had been a number of murders since last year but could not give the figures, adding that no arrests had been made yet.
He added that all the bodies found, except Thursday's, were yet to be identified by family members and therefore the bodies were still at the Police Hospital Morgue awaiting autopsy.
Cecilia's body has been deposited at the Comboni Hospital at Sogakofe awaiting autopsy.
Mr Amenuveve noted that due to the difficulty in identification, they suspected most of the dead persons were kidnapped from elsewhere and dumped after they were murdered.
He said as a way of curbing the incidents, chiefs and opinion leaders were urged to inform their people to report any suspicious individuals or incidents promptly. Patrols had been intensified, he claimed.
Some women who spoke to DAILY GUIDE expressed disappointment that nothing was being done about their plight.
They complained about the absence of street lights in the area and appealed to the police to intensify their patrols.
DAILY GUIDE 's investigations indicate that in 2006, 2008 and 2009, similar incidents happened in the area.
 From Fred Duodu, Sogakofe