Egypt prepares to wrap up landmark presidential poll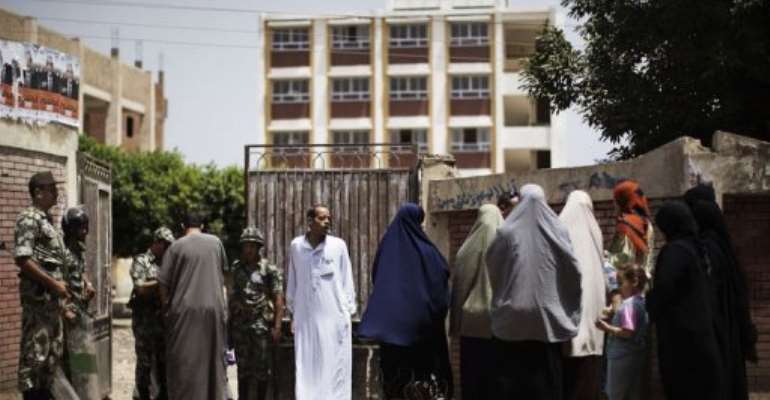 CAIRO (AFP) - Egypt prepared to wrap up landmark presidential polls on Thursday after an orderly two-day vote in which candidates pitted stability against the ideals of the uprising that ended Hosni Mubarak's rule.
Polling stations were to close at 9:00 PM, after voting was extended by one hour, with only minor violations reported by the interior ministry.
"Before the revolution, I never voted, because it was not useful. Since then, I have voted in every election because it's my right and my duty," said Ahmed Badreddine, 37, at a polling station in Cairo's Giza neighbourhood.
Queues formed outside the voting centres after they opened at 8:00 am (0600 GMT) with authorities declaring Thursday a holiday to allow public sector employees to cast their ballots.
"We used to consider the president a knight who could solve all our problems, but we have to look at what kind of system we want, not just the person we want," said Ayman Saad, 26, his finger stained purple with indelible ink to show he had voted.
Turnout appeared to vary across the country, with long queues outside some polling stations, and scant participation in others.
The official body supervising the election estimated that around 50 percent of eligible voters cast their ballot.
Around 50 million voters were choosing among 12 candidates, with the front runners divided between Islamists who say they will champion the uprising's goals and Mubarak-era ministers.
Among the contenders was former foreign minister and Arab League chief Amr Mussa, seen as an experienced politician and diplomat. But like Ahmed Shafiq, Mubarak's last prime minister, he is accused of ties with the old regime.
The powerful Muslim Brotherhood's candidate, Mohammed Mursi, faces competition from Abdel Moneim Abul Fotouh, a former member of the Islamist movement who portrays himself as a consensus choice with a wide range of support.
Two of the candidates are expected to go into June run-offs after the May 23 and 24 vote, with pollsters saying the number of undecided voters made the result of the first round extremely difficult to predict.
At a school in the upmarket Cairo neighbourhood of Heliopolis, with the dome of Mubarak's former presidential palace visible a few hundred metres (yards) away, hundreds of women braved the heat to stand in line to vote.
Noha Hamdy, 27, said it was a pleasant novelty to be voting in an election where the outcome is not predetermined.
"We go to an election not knowing who will win. I never voted before because the winner was always known in advance," she said. "This time I feel who I vote for, even if he doesn't win, will make a difference."
The next president will inherit a struggling economy, deteriorating security and the challenge of uniting a nation divided by the uprising and its sometimes deadly aftermath, but his powers are yet to be defined by a new constitution.
"The big challenge for the president will be to attract foreign investors and boost tourism," to "restore the balance of payments" and "restore the reserve" currency in the central bank, which has dropped by half in the past year, Mahmoud Abdel Fadil, a Cairo University economics professor, told AFP.
To do that, the new president will have to "reestablish political stability and assure a level of total security. Confidence must be restored," he added.
The election seals a tumultuous military-led transition from autocratic rule marked by political upheaval and bloodshed, but which also witnessed democratic parliamentary elections that saw Islamist groups score a crushing victory.
Ballot boxes from Wednesday were kept overnight in the stations after being sealed with wax by election commission officials and left under military and police protection.
The ruling Supreme Council of the Armed Forces, in power since Mubarak's ouster, has vowed to restore civilian rule by the end of June, after a president is elected, but many fear its withdrawal from politics will be just an illusion.
The army, with its vast and opaque economic power, wants to keep its budget a secret by remaining exempt from parliamentary scrutiny, maintain control of military-related legislation and secure immunity from prosecution.
Mubarak, 84 and ailing, is being held in a military hospital on the outskirts of Cairo where he awaits the verdict of his murder trial on June 2.
The former strongman is accused of involvement in the killing of some 850 protesters during the uprising and of corruption.