FEATURE: Senseless Killings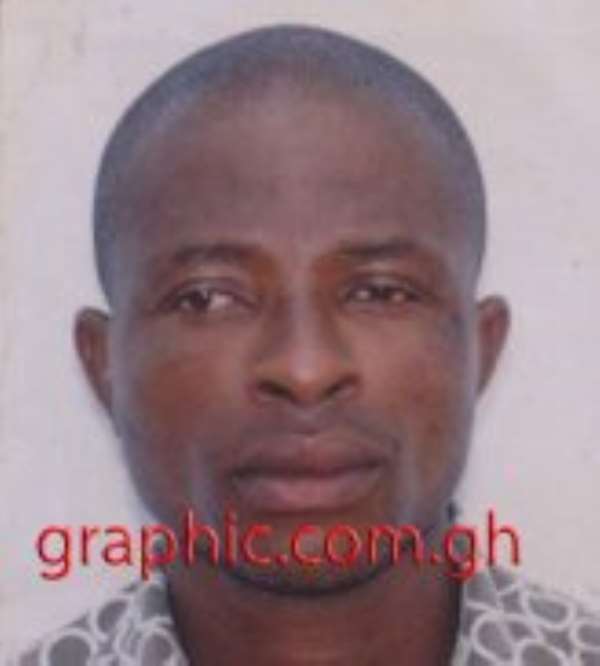 Kwadwo Yeboah is on the run after murdering his two children and their mother.
Kwadwo Yeboah is on the run after murdering his two children and their mother. Men are like steel, when they lose their temper, they lose their worth. Chuck Norris.
The reported incidence of murder, the senseless killing of women by those who profess to love them has become regular in recent times that there has been the expression of justifiable anger and anxiety.
Well-meaning Ghanaians, particularly human rights and gender activists, are asking what is wrong or necessitating these spousal murders. Husbands have been killing their wives for varied reasons, but the commonest cause has been fear of losing the wife, for either threatening to leave or being in the company of another man. It seems as if once married, women are not free but are sold into permanent bondage.
Public anger was aroused beyond saturation point when a cowardly sadist of a husband murdered the wife and their two children just because the woman was pregnant for the third time, not from another man but himself. Sadly, he survived and has been on the run, escaping justice. There was also the sad end of the Deputy Greater Accra Regional Director of Nursing, who was murdered by her husband for suspected infidelity. In her case the man committed suicide.
The numbers of such spousal killings are becoming diffused and should naturally arouse concern. But it is equally imperative that we draw attention to cases of senseless murders in the Western Region. Indeed, the frustrations about such murders were expressed in one case by a High Court Judge, Mr Justice Saeed Kwaku Gyan, who overwhelmed by the incidence, on the conviction of a suspect bemoaned the incidence and the necessity for some attention to be devoted to the issue to save innocent persons from such callous cold murders.
Usually in the case of the murders in the Western Region, it is about jealousy and envy. Some of it involve tenant farmers. There are some indigenous persons who either sell or lease their lands to others. When the sweat of the tenant farmers begins to translate into wealth, particularly cocoa farms, then they are murdered. Others involve family members of the tenant farmers. Here, relatives who do not want to sweat, on seeing that their uncles and brothers, have bequeathed their farms to their wives and children, do everything they can to eliminate such persons, in the hope that they would be the beneficiaries of such property.
Most of these murderers are successful because such individuals stay on their farms and not many members of their families or relatives know where the farms are located. Even for those who bequeath their farms to their children, often the children are not with their parents on the farms. Under such circumstances, if the murders are not detected for the suspects to be apprehended and prosecuted, they reap from where they have never sown.
It is important that we do not allow the public anger and indignation to die. There is the need for serious systematic study into the phenomenon. Already, in the case of the killing of women by their husbands, suggestions have been offered as to how signs about such acts, should never be taken for granted, such as compelling wives to return to matrimonial homes when they have been threatened with death.
Our society is more normative and therefore, issues of compliance are based on cultural or religious norms rather than the objective basis of the issues. Mostly, women are coerced to defer to their husbands than anything. Therefore, irrespective of the justness of the cause, society is more likely to prevail on the woman to be more considerate.
In situations of infidelity, whilst our custom allows for the man to have more than one wife and such incidents are seen as normal, it is a taboo for the woman to do same. We need to look into these matters in the face of the needless and unprovoked murders.
In the case of those inheritance or success in farming generated murders, it may be necessary for documentation on the lands, such that at every time, relatives of both the landowners, tenant farmer or the spouse would be known such that when such murders occur, the murderers do not inherit the property for which the original owners were eliminated.
The need for public awareness is critical as a first step in eliminating, reducing or averting such needless deaths. The situation where women complainants are directed to serve notice of their complaints to their husbands or are made to go and bring their husbands must change.
Equally, our police personnel must be educated, sensitised and oriented towards receipt of spousal complaints. Most often, the women are not treated with the respect they deserve. Sometimes, they are discouraged.
We have to learn from India. At a point, women who did not bring fortunes to their marriage were killed. In India, it is the woman who pays the dowry. So, what happened was usually that, when the husbands were away, the parents-in law, usually conspired and doused their in laws in petrol and set them on fire, spousal killings.
The government and people of India had to track and record such incidents and finally came out with stringent legislation to deal with the matter. Today, spousal killings are rare in India. We must thus collectively fight against these spousal murders and the inheritance induced murders in the Western Region.
graphic.com.gh