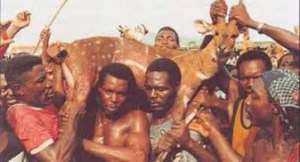 All is set for this year's Aboakyer festival on Saturday, May 19, 2012.
The festival, which is on the theme, "Peace and Unity: Key for development", was initially set for May 5, 2012, but had to be rescheduled to May 19, in view of the biometric registration exercise.
A member of the Efutu Aboakyer Board, Obatan Kweku Baiden, told the Daily Graphic in an interview on Wednesday that everything was on course for the climax of the festival on Saturday.
For the first time in over a decade, the Tuafo Number One Company will give its rival, the Asafo Dentsifo Number Two, a keen competition in the deer-hunting competition following the decision of the former to smoke the peace pipe and present a united front for the competition.
Over the years this has been a great tourist attraction in the month of May. It has brought huge crowds of people from all over the world to partake in the daily activities and witness the traditions of the Winneba people.
The Aboakyer festival honours the migration of the people of the Western Sudan Empire to Simpa or what is today called Winneba. As tradition states, the migration of the people safely to the new land was guided by the god Penkye Otu. In return for this safe migration, Penkye Otu required a human sacrifice from the members of the royal family. Over the years, the people pleaded to the god, Otu, for an animal sacrifice rather than a human sacrifice. The god accepted the deer in exchange for the human sacrifice.