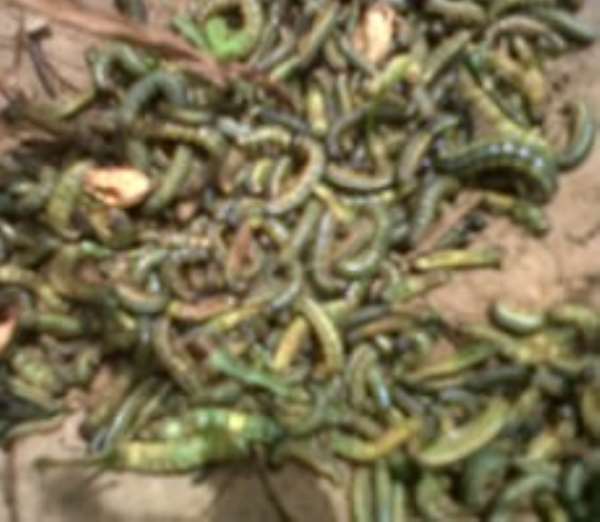 The worms were first sighted at Ada, Ga Dangbe East
Days after army worms invaded some farms in Ada in the Ga Dangbe East of the Greater Accra region, another invasion has also been reported at some farms in Senya Beraku in the Central region
According to the Director of Plant Protection and Regulatory Services of the Ministry of Agriculture, Vespa Soglo in an interview with Joy FM , farmers must be on the lookout for the worms adding that the situation can be properly managed if early warning systems are put in place.
He however noted that the worms are not spreading from one area to the other rather the worms are being sighted at different places at the same time because of favorable environmental conditions.
Mr Soglo further called on the National Disaster Management Organization (NADMO), the various district assemblies, and the Ministry of Food and Agriculture to come up with an effective early warning system across the country.
Meanwhile, more volunteers have been recruited in the Ga Dangbe East District where the first case of the worm invasion was reported.
According to the district NADMO Coordinator, Samuel Portuphy both affected and unaffected farms have been sprayed to curtail further spread of the worms in the area.
In the Ketu North District where over 2,400 hectares of rice farms are threatened, a similar spraying exercise is ongoing.
John Ricky Trakasu,Volta Regional Director of the Ministry of Food and Agriculture also told Joy FM the farmers are actively involved in the spraying exercise.
Meanwhile, agric officials have revealed that although the chemicals used for the spraying exercise are poisonous, there is no cause for alarm because most of the crops attacked are yet to bear fruits.