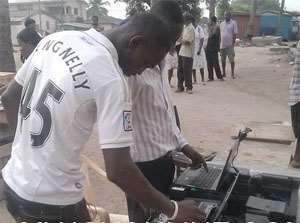 It is indeed interesting to be a Ghanaian at this moment as we are once again confronted with a golden opportunity to consolidate our democratic credentials. The electoral commission collaborated with all stakeholders to implement the biometric voter registration for the first time in the history of our beloved country.
The Biometric voter registration started on the 24th March - 5th May 2012. Fingerprints and facial features are captured to register prospective voters who attained the age of 18yaears and above during the period of registration. The rational is to reduce completely incidences of bloated register and double registration as well. It started smoothly with the first- quarter completed but the incidence had been a matter of do or die affair as some Parliamentary aspirants attempts to flout the electoral laws by employing means of intimidating qualified Ghanaians from registration but engaged in busing minors to registration centres outside their places of residence to register, so as to cheat in the upcoming general elections.
I wish to use this opportunity to commend ACP Angwutubutoge Awuni, the commander of Police MTTU who stood firm against acts of flouting the electoral laws by a former Minister. If all uniform personnel act in this professional manner, the confidence of civilians would have beefed up thereby preventing people in high office from misconducting themselves in the face of the law, hence recipe for peaceful co-existence and the rule of law.
The Wa East Constituency in the upper west Region is one of the areas that if care is not taking could be starting point electoral violence which to jeopardize peace we are enjoying, taking happenings from 2008 general elections where the current DCE had verbal confrontation with the incumbent NPP member of Parliament prior to the elections at a parliamentary forum. There were incidences of ballot snatching which lead to the late collating of results at the constituency. Tension is being mounted at the constituency as citizens feel scared and intimidated to come out for the registration process. This as a result of The DCE in his attempt to register minors from Wa town were forcefully resisted by members of the community, subsequently the DCE reported to the Police and Military, which lead to security beef up in the polling centers.
A branded Mahindra vehicle with the NDC candidate on thus the DCE is loaded with a special unwarranted taskforce with guns inside moving to registration centers to intimidate electoral officers and get the minors registered.
This country deserves better and we advice leaders of NPP and NDC government officials to desist from acts aimed at jeopardizing the peace enjoyed by the people for their parochial interest of retaining or attaining power at all cost.