'Give Agric High Priority'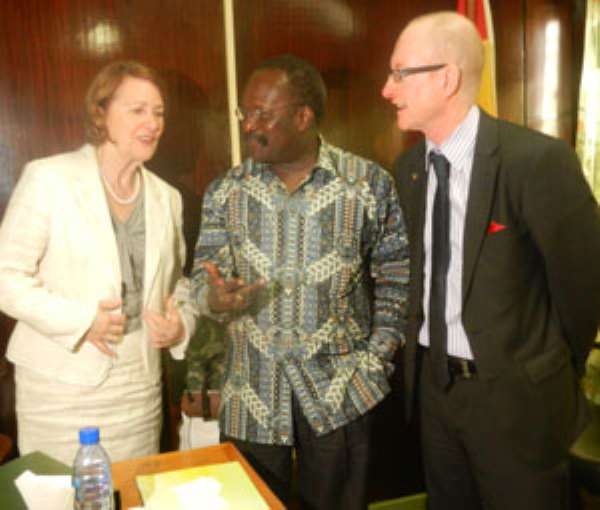 A special envoy of Australia's Prime Minister is in Ghana to deepen her country's engagement in the agricultural sector to ensure productivity and food security.
Joanna Hewitt, Chair of the Commission of the Australian Centre for International Agricultural Research (ACIAR), who is in the country to strengthen bilateral relations met with Ghana's Minster of Food and Agriculture, Kwesi Ahwoi and officials of the Ministry at a roundtable discussion.
She mentioned that her country was interested in opportunities to contribute to the development of Ghana through investments in the agricultural sector.
After listening to various officials of the ministry, most of whom had benefited from Australian scholarships, the two countries agreed to improve the capacity of agriculture extension officers and harness research in the sector to boost productivity.
Ms Hewitt, who is knowledgeable in agriculture both in Australia and beyond, noted that farmers in her country have moved from subsistence farming to mechanized.
'Most farms in Australia are family farms which are run as a business and they sue technical and sophisticated methods. Though the farms in Ghana are smaller, it is possible for them to apply these technologies.'
She revealed that agriculture in Ghana could be transformed to provide not only 'food but income and human capacity.'
Ms Hewitt, who was accompanied by the Australian High Commissioner, William Williams, said she would also discuss issues relating to other industries such as mining sector, governance and public policy, where her government intends to increase development assistance.
Dr Samuel Kojo Dapaah, Chief Technical Advisor to the Minister, who gave an overview of Ghana's agriculture sector, hinted that the contribution of the sector to GDP has reduced from 40 per cent to 20 per cent over the past ten years.
Though the nation's 14 million tones of roots and tubers is self sufficient, it lags behind in the production of cereals and livestock.
'There is a big gap. This is why we import a lot of cereals and livestock from Australia and Brazil and other places. 'We are finding ways of minimizing this gap,' he stated while touching on other challenges such as illegal fishing.
Dr Dapaah mentioned that Ghana's export of non-traditional products, which include other items apart from cocoa, have over the past 20 years increased from 20,000 tonnes to 1.5 million tones.
To improve the agriculture sector, Dr Dapaah said the ministry has developed a five-year Medium Term Agriculture Sector Investment Plan (METASIP) with the support of the World Bank and the USAID.
The METASIP has been developed to achieve a target agricultural GDP growth of at least 6 per cent annually, halving poverty by 2015 in consonance with the first target of the Millennium Development Goal and based on government expenditure allocation of at least 10 per cent over the five-year period.
Mr Kwesi Ahwoi noted that the agriculture sector is key to overall economic growth and development of the country but farmers battle with the twin challenge of too much rain or less.
'Our problem is not different from that of Australia but your country is able to manage these challenges and we want to learn from you,' the minister told the Australian Envoy.
Stella Ennin, Deputy Director of the Crops Research Institute, who is also the Regional Coordinator of Crop -Livestock Integrated Project funded by Australian Agency for International Development (AUSAID), which is aimed at improving agricultural growth and economic development in Africa namely Ghana, Mali, Benin among others, gave an overview of the project.
She said the project, which is being implemented on a pilot basis in Atebubu and West Mamprosi, is helping to provide innovative platform to address specific problems in the agriculture sector with concentration on the value chain.
Kwame Amezah, Director of Agric Extension of the Ministry of Food and Agriculture, called for the strengthening of the capacity of farmer-based organizations through enhanced extension services.
'Though we have so many farmers across the country we have very few extension officers.'
He said the ratio of extension office to farmers is one to 2500 when the ideal situation should have been one extension officer to 500 farmers.
By Emelia Ennin Abbey