4,000 multiple registration detected at on-going Biometric Voter Registration-EC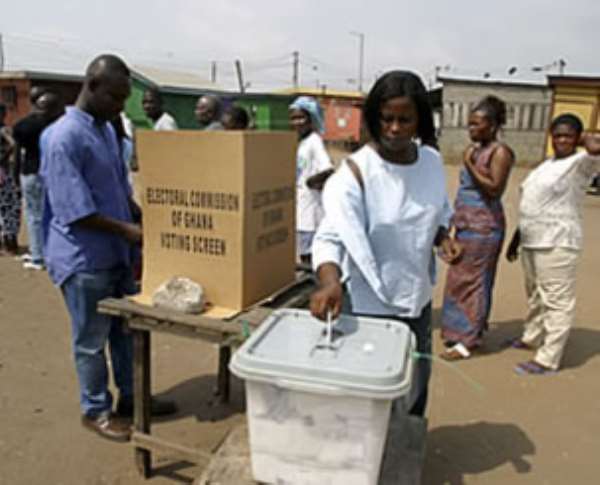 Accra, April 18, GNA - The Electoral Commission (EC) on Wednesday said 4,000 multiple registrations had so far been detected nationwide, allaying fears that the problem occurred in a particular Region that could favour a particular political party.
Mr Gilbert Akomea, Director, Information and Communication Technology (ICT) Department of EC, said such registrations did not follow any pattern, neither did they come from any particular part of the country or Region, but were widespread across the country.
However, he said, the current technology being used by the EC to compile the biometric data of eligible voters allowed for effective detection and removal of multiple registrations, therefore all such names would be cleaned to ensure a credible voter register for Election 2012.
Mr Akomea was addressing a dialogue session on the topic: "All we must know about the 2012 General Elections", at the on-going Third Ghana Policy Fair in Accra, which provided a forum for stakeholders to dialogue on various government policies and programmes.
He explained that Ghana needed a credible biometric data base system for a continuous voter registration process and had so far captured a total of 8.1 million eligible voters by the end of the second phase of the Biometric Voter Registration (BVR), as against 6.5 million persons anticipated.
Mr Akomea explained that persons who were found to have registered more than once would have their names removed entirely from the register, be arrested and prosecuted to face either a jail sentence or a fine, as the court may please.
"There is an adjudicating committee looking at those cases. What is important is to establish whether they were done deliberately or some thought their photographs were not nice so they decided to have another registration just that they can have better photographs. The outcome of the investigations should determine what should be done."
He urged the public to be responsible and vigilant to prevent attempts of double registration as well as confrontations that usually arose as a result of challenges, adding, "We need a credible biometric data in order to ensure continuous registration of the country's eligible voter population and ensure a credible voter register for peaceful elections in the country".
Mr Akomea, touching on the successes of the registration process so far, disagreed with appeals by a section of the public for more time to allow all to get registered, explaining that during registration periods, the numbers declined with time and therefore hoped that every eligible voter would be served within the stipulated period of the 40 days.
He attributed it to the rush characteristic of the early days of registration, but "we are sure there is still enough time for Ghanaians to register," he said.
Mr Akomea admitted to the various challenges that had characterised the biometric data collection with respect to the performances of the biometric data capturing equipment, which were sensitive to extreme heat, water and dust.
He said the situation was much better than when it started and gave the assurance that EC had trained technicians to tackle most of the mechanical failures.
Mr K. B. Asante, a retired public servant, who moderated the session, appealed to Ghanaians to report all challenges to the EC for swift response instead of attempting to address such problems in their own way.
He suggested that the EC's efforts be supported by all and sundry by observing all rules and regulations governing the registration process to help ensure credible elections for Ghana's infant democracy.
GNA