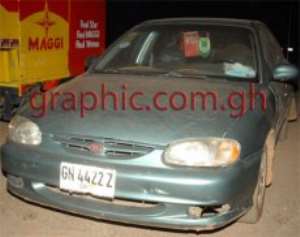 Two siblings aged three, and one-and half, were Saturday found dead under mysterious circumstances in a car belonging to a retired soldier at Kotwi in Kumasi.
Warrant Officer (Retd) Class One (WO1) Hope Atta Ababio, was said to have found the children lifeless in the KIA Sephia saloon with registration number GN 4422 Z at a hospital where he currently works as a part-time laboratory technician at about 3pm Saturday.
The Asokwa Police in Kumasi have since detained WO1 Ababio pending further investigations.
The deceased, identified as Emmanuel Agyapong, 3, and Patricia Agyapong, one-and-half were children of co-workers of WO1 Ababio.
The Asokwa District Police Commander, Supt. E.A. Akonnor, told graphic.com.gh that autopsy would be carried out on the bodies at the Komfo Anokye Teaching Hospital Monday to help police in their investigations.
Preliminary police reports as narrated by Supt. Akonnor had it that, W.O. 1 Ababio went to the Dona Jibb Hospital at Kotwi in Kumasi where he worked at about 8.30am on Saturday.
He parked his vehicle in front of the hospital and went in to attend to the day's duties.
Supt. Akonnor continued that the parents of the children, Mr Patrick Agyapong and Ms Beatrice Osei also worked at the hospital as security man and cleaner respectively.
They were also at the workplace with the children that morning.
According to the district police boss, the children left their parents to play at the premises of the hospital.
At about 3pm, WO 1 Ababio went to the car and to his shock and surprise found the two children dead in the vehicle.
Police were called in to convey the bodies to the hospital while the owner of the vehicle was arrested.
source: graphic.com.gh