Ethiopian forces in bloody crackdown on Oromia protests: HRW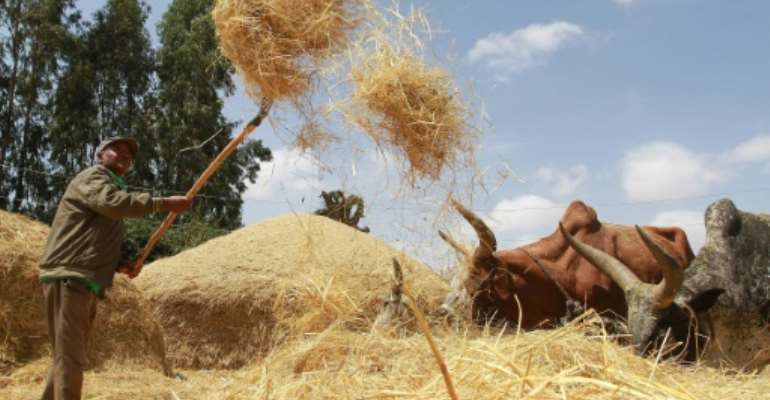 Addis Ababa (AFP) - Ethiopian security forces are carrying out a relentless and bloody crackdown on peaceful protests in the Oromia region, at a cost of scores of lives, Human Rights Watch reported Monday.
"Almost daily accounts of killings and arbitrary arrests have been reported to Human Rights Watch since 2016 began," said the New York-based non-governmental organisation.
The demonstrations began November due to a government plan to expand the boundaries of Addis Ababa into the Oromia region surrounding the capital, raising fears among Oromo people that their farms would be expropriated.
Authorities dropped the urban development plan on January 12 and announced the situation in Oromia was largely under control.
But the demonstrations continued, along with the brutal response.
"Flooding Oromia with federal security forces shows the authorities' broad disregard for peaceful protest by students, farmers and other dissenters," said Leslie Lefkow, deputy Africa director at Human Rights Watch.
Protesters and witnesses told HRW that since mid-January, "security forces have shot randomly into crowds, summarily killed people during arrests, carried out mass roundups, and tortured detainees," the report said.
The Oromos are the largest ethnic group in the east African country, estimated at 27 million people in a total population of some 99 million. Their land encircles Addis Ababa and they also live on large tracts of the west, centre, east and south of Ethiopia.
Their language, Oromo, is distinct from Amharic, spoken by the Ahmara people and used by the national administration.
HRW noted that researchers were unable to determine how many people have been killed or arrested because access to Oromia is restricted.
"(Ethiopian) activists allege that more than 200 people have been killed since November 12, 2015," the rights watchdog said. In a previous document at the beginning of January, HRW reported at least 140 killings.
Security forces have arrested several thousand people since November and are holding them without charge, the organisation said.
"The protests are still going on albeit in less locations. There is also less and less information coming out from the areas where the protests are happening," HRW's Horn of Africa expert Felix Horne told AFP.
"Many individuals who provided updates and information have either been arrested, have disappeared, or are afraid to provide further information," Horne added.
"The Ethiopian government should end the excessive use of force by the security forces, free everyone detained arbitrarily, and conduct an independent investigation into killings and other security force abuse," HRW stated.
"Ethiopia's donor countries have responded tepidly, if at all, to the killing of scores of protesters in Oromia," Lefkow said in the report.
"They should stop ignoring or downplaying this shocking brutality and call on the government to support an independent investigation into the killings and other abuses," he added.