Ghana Gets $795m To Reconstruct Accra Drains, Western Rail Lines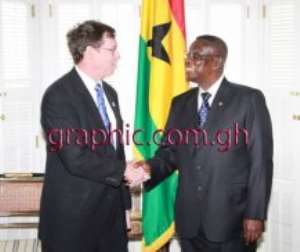 President Mills meet Patrick Fine at Blair House
The Ghana Government has signed two memoranda of understanding (MoU) with two US companies for the reconstruction of drains in the national capital, Accra and the rehabilitation of its Western rail lines.
The total cost of the project is $795 million.
Five hundred and 95 million dollars has been earmarked for the Accra drains while $200 million will be used for the rehabilitation the Western rail lines.
Finance Minister, Dr Kwabena Duffuor and Deputy Minister of Transport, Ms Dzifa Attivor initialled for Ghana, while the Managing Directors of Conti Engineering and General Electric signed for their respective companies.
The signing ceremony took place at a dinner organised in honour of President John Evan Atta Mills by the Business Council for International Understanding, an umbrella body for American businesses in Washington DC.
President Mills said the government would continue to create the necessary atmosphere to woo more investors into Ghana.
The US Ambassador to Ghana, Donald Teitlebaum lauded Ghana's democratic credentials urging American businesses to invest in its economy.
He said besides Ghana's economy being one of the fastest growing in the world, the country also had a friendly environment for investment.
Mr Teitlebaum used the opportunity to explain President Barrack Obama's policy of partnership for growth.
The Mayor of Accra, Alfred Vanderpuye, indicated to graphic.com.gh that all the necessary documentation would be fast tracked for Parliament to approve the loan to enable work to begin on the project as soon as practicable.