7 OUT OF 10 GHANAIANS HAVE GLAUCOMA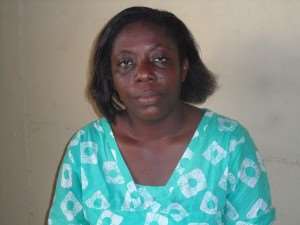 Mrs. Ellen Adutwumwaa Semenyo Executive Director of Mama Ellen Foundation
STARTLING INFORMATION available indicates that roughly every seven Ghanaians out of ten are potential carriers of Glaucoma, a deadly eye disease.
Glaucoma is an eye disease in which the optic nerve is damaged in a characteristic pattern and can permanently damage vision in the affected eye(s) and lead to blindness if left untreated.
Even more disturbing is the revelation that Ghana has the highest number of infected cases in the whole of Africa and ranks second in the world.
Usually referred to as the 'Silent thief of sight', the development of Glaucoma in the infected eye is said to occur slowly over a long period of time, with the symptoms of the disease usually occurring only at the advance level.
Once the vision is lost, it cannot normally be recovered, a reason which has necessitated its prevention rather than treatment.
As the world celebrates Glaucoma Week, beginning from March 11 to 17, a Kumasi-based Non Governmental Organization (NGO), Mama Ellen Foundation has set aside a number of outreach programmes to educate residents in the Metropolis, about the dangers associated with the disease.
Amongst the programme, which is being undertaken in collaboration with the Eye Clinic at the Komfo Anokye Teaching Hospital (KATH) include educating people on the nature of the disease and how to prevent it and also screening to detect infection.
The Executive Director of the Organization, Mrs. Ellen Adutwumwaa Semenyo, said the screening exercise will commence on Sunday, March 11 at Patasi in Kumasi and would take place in other areas such as Santasi, Ahodwo, Sokoban, Kaaase, Atonsu, and Adum after which beneficiaries would embark on a float through principal streets of Kumasi to create awareness about the existence of the disease.
She stated that after the screening, the organization would assist infected persons, particularly, those who do not have the financial power, to treat the disease.
Mrs. Semenyo observed that the fact that Glaucoma does not manifest early enough in patients give cause for concern, stressing that the situation had resulted in greater number of people being infected.
She, therefore, appealed to philanthropists and organizations to assist the foundation to undertake the exercise in order to reduce the likelihood of greater number of people going blind. END