Nokia Launches Asha Phones. Opens Care Centre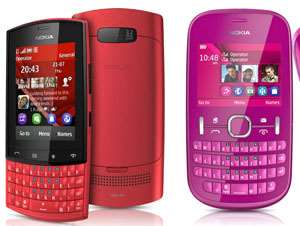 The Nokia Asha 303 and Nokia Asha 201
World's leading mobile phone manufacturer, Nokia has officially launched its Asha phones onto the Ghanaian market.
The company outdoored the Nokia Asha 201 and Nokia Asha 303 at a colourful event in Accra.
Nokia Asha phones are affordable messaging devices produced with full QWERTY keypad for quick and easy text input.
The General Manager in charge of Sales for Nokia Nigeria, Chris Brown, said consumers can now send text messages, emails and chat with their friends with the added speed advantage of the QWERTY keypad.
He added that 'they can also view their friends status updates and tweet right there on their home screen and download thousands of free applications from the proprietary Nokia store.'
On his part, Nokia's Operator Account Manager, Kolawole Osinowo said, 'Asha means hope and we see the next generation as one that is bound to be connected beyond calls and text messaging. Thus today, we are launching an ambition and not devices.''
This, according to him, led leading operator, MTN to partner with Nokia to provide free one-month internet access to Nokia faithful in Ghana who purchase the device.
He further stated that Nokia Asha is consistent with the company's tradition of churning out devices that suit consumer needs.
'We are making phones that give users a great experience and in Asha 201 and 303, we are giving young people devices that are trendy and packed with lots of exciting applications,' Mr. Osinowo.
He further explained that besides QWERTY Pad, Asha 201 and 303 also give users access to the Nokia store, where thousands of applications can be downloaded and the internet access is free for one month, thanks to MTN 
Nokia Asha 201 comes with fully integrated social networks to make consumers stay connected to friends and networks via Nimbuzz, Facebook chats and more.
It also has high performance loudspeakers to enable consumers share favourite music with friends and support for up to 32G with a microSD memory card.
The Nokia Asha 303 comes with all tools on the homescreen, which means consumers can view their friend's updates and tweet right there. It also comes with touch screen capabilities to enable consumers navigate their phone as well as play games on the sleek touch screen.
Nokia Asha 303 has the Nokia browser that gives consumers faster and more cost effective web-browsing experience.
The Nokia browser compresses consumer data by up to 90 per cent that allows consumers to spend less money and time surfing the internet via data.
In a related development, the company opened a care centre at Asylum Down Roundabout in Accra.
This brings the number of Nokia Care Centres in Accra to three.
Commissioning the facility, the Deputy Greater Accra Regional Minister, Nii Djanmah Vanderpuye said 'it is also refreshing to observe that the Care Centre would also help detect fake Nokia phones which are mainly imported elsewhere around the globe.'
He commended Nokia for the initiative, which he said will go a long way to help curb the activities of traders of counterfeit Nokia phones on the market.
The Head of Care Nokia West Africa, Silvin Sinan said the objective of the Care Centre is to ensure that Nokia users are continuously connected.
He noted that Nokia phones with warranty will be repaired free of charge and announced that his outfit will open care centres in Kumasi and Takoradi by the end of 2012.   
By Esther Awuah