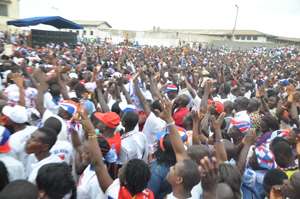 The gargantuan crowd
The city of Accra virtually came to a standstill when the opposition New Patriotic Party (NPP) held a rally at Mantse Agbonaa as part of events to climax the 'listening tour' of its Presidential Candidate, Nana Addo Dankwa Akufo-Addo, and to introduce parliamentary candidates for the Greater Accra Region.
Vehicles moved at a snail's pace as a result of the huge vehicular traffic caused by the movement of hordes of party supporters from various parts of the region to the rally grounds, near the James Town beach.
It was like a sea of heads and people had to climb as high as the 'light house' tower and rooftops to observe proceedings from the park amidst heavy police presence.
As at 9am, people had started arriving at the venue in their numbers, with traders of food and party paraphernalia cashing in on the rally.
The crowd kept swelling with time as every available space was covered, amidst drumming, singing and dancing.
Each of the party's parliamentary candidates in Accra scheduled to be introduced was given a minute or two to address the crowd.
They were met with rapturous applause.
When the name of the tough-talking Member of Parliament for Assin-North, Kennedy Agyapong, was mentioned, the crowd was thrown into a state of wild jubilation.
Midway through his presentation, which was an expose on government's plan to denigrate the likes of former Presidents Jerry John Rawlings and John Agyekum Kufuor and NPP presidential candidate, Nana Akufo-Addo, the arrival of Mr Kufuor was announced.
The crowd went into a frenzy, with virtually everybody struggling to catch a glimpse of the man whose stature has earned him the nickname 'Gentle Giant'.
There were chants of 'Paapa o dende, Paapa o dende!' literally meaning 'welcome daddy', with Kufuor responding to the cheers from the crowd with a wave of two of his fingers to signify victory and blown kisses of appreciation.  
The police and security men of the NPP had a hell of time controlling the crowd and occasionally had to use 'minimum force' to send them back to their positions as the man walked to the stage with his security men.
A few minutes later, Nana Addo arrived at the event venue wearing a broad smile on his face.
His arrival was met with the hit song 'Nana is a winner', with the supporters singing along and dancing to the tune.
After various speeches from party stalwarts including NPP Chairman Jake Otanka Obestebi-Lamptey, General Secretary Kwadwo Owusu-Afriyie, National Youth Organiser Anthony Abayiifa Karbo, former President Kufuor and Nana Addo himself, the rally was brought to an end.
By Charles Takyi-Boadu