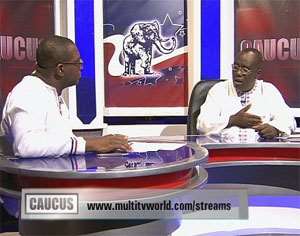 The General Secretary of the opposition New Patriotic Party (NPP), Kwadwo Owusu Afriyie says Ghanaians have lost trust in President Mills due to his persistent failure to deliver on his promises.
'If you look at the present administration, Mills, John Mahama and the NDC, they've lost complete trust of the people. Nobody trusts Mills when he speaks and he I believe, he doesn't even trust himself' he said.
Speaking on Multi TV's political talk show, Minority Caucus, Mr. Owusu Afriyie, popularly known as Sir John noted that 'everything about him (Mills) tells you that the man has lost all credibility' hence the need for Ghanaians to vote the NPP's Nana Akuffo Addo into power to restore the hope and trust of Ghanaians which have been crushed by the Mills-Mahama administration.
'Today if Mills says he will reduce fuel prices drastically, nobody trusts him. Nobody believes him because he has not proven to be trustworthy in terms of all the promises he made. Broken promise upon broken promise and that is what has characterized this administration' he said adding that 'Mills promised us hope, what he has succeeded in doing is to provide hype, nothing whatsoever'.
He also described the President as a 'goner' who knows that 'he's lost it.'
'I've always said that the man is tired, you can see from his face, his whole countenance, his whole demeanor shows that the man is tired and he wants to be helped but we will not do so until December'.
According to him, 'I've never seen any government in the politics of the world, let alone here, who doesn't get anything right. I've never seen one in my life except that of Mills. It's amazing that the man gets everything and almost anything wrong.
And so I think that his own wife is disappointed in him, he himself is disappointed in himself. I've seen Professors, lecturers who are disappointed in him, their colleague, and everybody including the NDC big shots (I will not mention names). But I spoke to one of them who said Sir John, it could have been done better. And that is to tell you that it is not good.'
Sir John was upbeat about the NPP's chances in the upcoming general elections indicating that the NPP's loss in the 2008 polls has given Ghanaians the opportunity to 'see the true nature of Mills and the NDC' and so far 'several Ghanaians, almost all of us, have regretted having gotten them there.'
Multi TV