Mills Dissolves ECG Board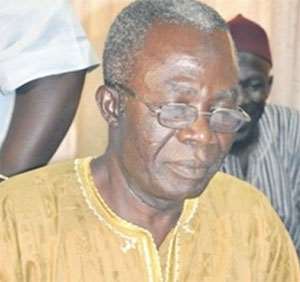 Anthony Gyampoh
The Ministry of Energy has announced the dissolution of the board of the Electricity Company of Ghana (ECG) with immediate effect.
No reasons were assigned for the sudden dissolution of the board just a day after the approval of a new electricity tariff by the Public Utility Regulatory Commission (PURC). 
A terse statement from the Energy Ministry, circulated by Edward Abambire Bawa, Communication Specialist at the ministry, said a new board had been constituted by President John Evans Atta Mills to be chaired by Mrs. Perpetual Darfour. 
'This Board will be sworn-in on Tuesday 6th December 2011,' the statement said. 
'The Ministry takes this opportunity to convey to the old Board the sincere gratitude of His Excellency the President for their contribution toward building ECG into a world class electricity distribution company,' the statement signed by the sector minister, Dr. Joe Oteng-Adjei, added. 
Until his death, Squadron Leader Clend Sowu was the board chairman. Other members are Samuel Cudjoe, Dr Nii Oakley Kwei-Kumah (deputy minister of Roads and Highways), Barima Kwame Nkyi XII (Omanhene of Assin Apimanim Traditional Area, Assin Manso), and Anthony Gyampoh (outgoing acting Managing Director of ECG).
The rest are Bernard Allotey-Jacobs (NDC Central Regional Communications Director), Kweku Osafo (a 2008 CPP presidential aspirant), Kwabena Adjei (2008 presidential candidate of the Reformed Patriotic Democrats-RPD) and Cephas Gakpor.
Mrs. Perpetual Darfour is also a board member of GAMA Film Company, a sister company of TV3 Network Limited.
The statement did not mention the names of members of the re-constituted board.
However, DAILY GUIDE has gathered that the new board members include the new acting Managing Director, Hutton Mensah, Barimah Kwame Nkyi VII, Samual Cudjoe, Bernard Allotey Jacobs, S.S Nanyina, former Northern regional minister, Alfred Agbesi, MP for Ashaiman and former board member of Tema Oil Refinery (TOR), Engineer Nana Kwame Doodo and Alhassan Abdulai.
The minister's message that President Mills appreciated the old board's contribution 'toward building ECG into a world class electricity distribution company', is in sharp contrast with realities on the ground as the issue of frequent power outages are still in the system.
For some time now, the ECG has received public bashing for its performance as far as the supply of electricity is concerned.
Critics are of the view that a company that professes to be performing creditably cannot have its board dissolved.
Problems of loss of energy purchased with pre-paid meters, malfunctioning of meters, limited failure computerization systems to hook more households onto the grid and most of all unannounced power outages have become a common trait of the national energy provider.
By William Yaw Owusu