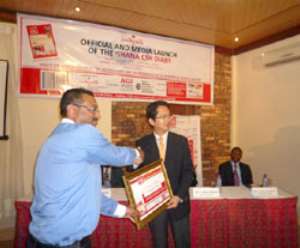 Mr. Pallav Rastogi (Marketing Manager - Somotex Ghana Ltd) receiving the certificate from Mr. Jiro Inamura Chief Rep JICA Ghana
Mohinani Group of Companies, formerly Poly   Group of Companies  representing Poly Sacks, Poly Tanks, Poly Kraft, Somotex, Somovision, Uniwell Trading, South West Estates, Masco Foods (KFC franchise in Ghana) was awarded for its multi-faceted commitment to developing society by the Ghana CSR Diary.
The Ghana CSR Diary is a free corporate social responsibility magazine published by Integriti Media, in partnership with the Association of Ghana Industries and the Ghana National Chamber of Commerce and Industry
The  objectives of the Ghana Corporate Social Responsibility Diary and awards 2011 is to  help  propagate and publicise socially responsible activities executed by companies in Ghana, and help disseminate it to stakeholders and Ghanaians in general.
It also helps document exclusive details of past and current CSR activities in colour and an appreciable manner, which could be cited as a reference for goodwill, marketing or reporting purposes.
The diverse activities of the Mohinani Group of Companies provides employment opportunities directly to over 2,000 people in Ghana, and most of the group's companies are prominent among the top 100 companies in Ghana.
Present at the event were the Minister of Trade and Industry, Hanna Tetteh, the President of the Association of Ghana Industries, Nana Owusu-Afari, and Prof. Martin Gyambrah, Director of the University of Applied Management, Germany ( Ghana Campus).