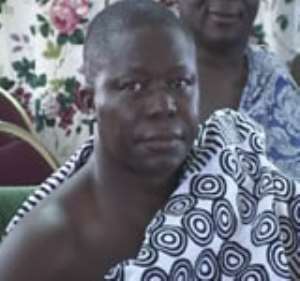 Kumawuhemaa has been very categorical about her intentions regarding the Ananangya royal family. She has recently stated without fear of retribution that as long as she lives, breathes, sleeps and wakes, the Ananangyas will never ascend to the paramount throne of Kumawuman. The following is what she has said about the Ananangya candidate likely to succeed the late Barimah Asumadu Sakyi II, the paramount Chief of Kumawu Traditional Area. "He is thin, not handsome, poor, and has no any house of his own in Kumawu" She goes on to say that Asantehene, Otumfuo Osei Tutu II, will not call any Asanteman Council meeting any sooner let alone ordering the hearing and ruling of the Kumawu chieftaincy wrangling.
I was fuming when an Ankaase royal resident in Boston (USA) called around to disclose this latest pronouncement by Kumawuhemaa to me. What a sarcastic reminiscence of the pot calling the kettle you are black. Let me be clear with Kumawuhemaa for once if she is suffering from dementia. When her late brother, Barimah Asumadu Sakyi II was enthroned in 1973, he had not a house of his own in Kumawu. He never had a house of his own until his demise in June 2007. He was not fat when Kumawuman crowned him the paramount chief of Kumawu. Even fatness, which is actually obesity, is a disease that kills many across the world. When you are fat, the likelihood of suffering complications like diabetes, blindness, cardiovascular attacks and shortness of breath is far too pronounced.
The queen herself had no house in Kumawu prior to her bribing her brother to appoint her the queen of Kumawu. She had just come over from Canada and had her Kumawu residence put up after her enthronement. Had she and her brother not hailed from Bompata in the Asante Akyem area where they were born and bred? Moreover, she is not the one to lecture anyone on beauty. I have her picture on the cover of a distortedly narrated history book of Kumawu royalty and its origin. A friend purchased me this book from the last "Papa festival" celebration to be organised by the late Barimah Asumadu Sakyi II in Kumawu. In the picture, she looks like a Chinese macaque as alleged by this Ankaase royal living in Boston. If she is herself not beautiful but as ugly as ugliness that cuts across the bone, why should she wield ugliness as a weapon to bring down another fellow?
I am saying again as said numerously in my previous publications that Kumawuman would rather prefer an ugly, uneducated but intelligent person who can reason with the subjects, listens to them, to rule them to one with opposite qualities. They will go for a dynamic, selfless and farsighted person than an insatiably greedy, myopic, and selfish and one with a long hand that is always eager to dip into the State's coffers to embezzle funds as is currently the situation at Kumawu.
Anyway, there is a strong undertone rumour in Kumawu that Kumawuhemaa is likely responsible for the sad occurrences taking place within the Ankaase royal family. Does it mean that she has anything to do with Barimah Asumadu Sakyi II's death, the predicament of Kwabena Anane who is in prison remand, the regrettable accident caused by Ronnie culminating in the recent fatal fate of Kofi Dadzie, and the deaths of the siblings of Otuo?
I understand the woman is still deeply involved in jujus/voodoos in the hope of enthroning the person after her own corrupt heart as the successor to the late Barimah Asumadu Sakyi II. She wants a knucklehead for paramount chief so that she can twist the person's arms to do her thieving bidding.
I do not blame this woman but Asantehene, Otumfuo Osei Tutu II, her special soul mate. All the woman's overheard predictions about Asantehene's wishy-washy have happened. Right from the very inception of the case, she has been insisting that Asantehene, her boyfriend, would never proffer a guilty verdict against her. Asantehene has employed delay tactics, which confirms the assertions his girlfriend always makes. I do not blame her. Why should she not profit from the fruits of her cocoa farm situated in-between her legs as in line with Salman Rushdie's suggestion in his novel - The Moors, "Your future prospects lies in-between your legs, concentrate on making your husband happy and stay off your elders' businesses"
I am truly no longer interested in the Kumawuman chieftaincy affairs if I were not a vessel to proclaim God's intentions as revealed in many of my articles. Kumawuman people are not pulling the knockout punches to floor the obstinate Kumawuhemaa and her corrupt lieutenants.
To Asantehene, I say, "The virtue of justice consists in moderation as regulated by wisdom. So act that your principle of action might safely be made a law for the whole world. Obedience of the law is demanded, not asked as a favour.
To myself I say "It is beautiful to yield to a law, to a ruler, or to a wiser man" That is the reason why I have yielded to God, the wisest Supreme Being.
To the citizens of Kumawuman I say, "Don't let idiots ruin your day" My deepest condolences to the bereaved families of Kofi Dadzie and Otuo.
I will sympathise with Kwabena Anane and Ronnie if it does credibly turn out that Kumawuhemaa was spiritually behind the screen pulling the strings that caused their disgraceful predicaments.
John Fosu