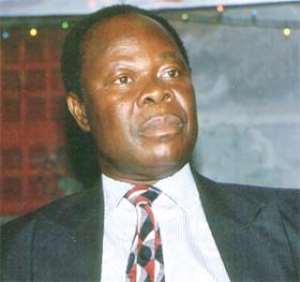 AS THE July 8 Congress of the ruling National Democratic Congress (NDC) gets near, intense pressure seems to be mounting on the Mills camp which is said to be afraid of a possible defeat in the polls.
Against this backdrop, the Mills group is in the process of assembling all of its arsenals to ensure victory at the Sunyani Congress to lead the party for election 2012.
The immense heat which is generating as the congress day gradually approaches, is said to have forced President Mills to call down Ghana's Ambassador to the USA, Daniel Ohene Agyekum, to assist in the campaign work.
Mr. Agyekum, a former Ashanti Regional Chairman of the NDC and a one-time confidant of Jerry Rawlings, has started campaigning for President Mills since his arrival a few days ago, sources told DAILY GUIDE.
The Ghana Ambassador to the USA is said to be combing all the 39 constituencies in the region on a daily basis to canvass votes for President Mills.
DAILY GUIDE gathered that Mr. Agyekum is not eligible to vote at congress and he would be staying in the country for close to a week for campaign and return to his USA base latest by Tuesday.
Information reaching DAILY GUIDE indicates that the Mills campaign machinery is trailing the Nana Konadu camp in the Ashanti region by a wider margin and if nothing is done about the situation in earnest, it would not augur well for Prof. Mills during the congress.
The Nana Konadu message of change is said to have been widely accepted by NDC delegates that are expected to exercise their franchise at the congress.
In a desperate attempt to prevent an imminent defeat which is now staring them in the face, the Mills camp decided to invite Mr. Ohene Agyekum to support the campaign work.
He is even alleged to be distributing monies to delegates in a desperate attempt to woo them back to his boss.
Mr. Ohene Agyekum is well remembered for his infamous using of eggs and schnapps to curse his political opponents from the NPP and some journalists during the 2008 electioneering campaign period.