FIDELITY BANK WOWS KUMASI CUSTOMERS WITH FANTASTIC PRIZES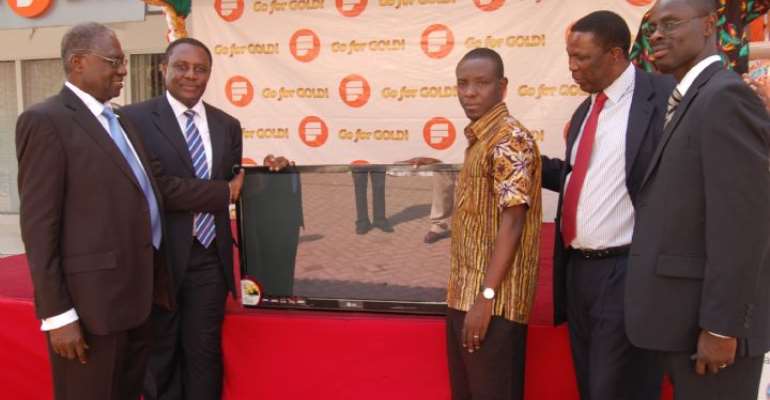 Kumasi, 15th December 2010: Fidelity bank brought lots of excitement to the streets of Suame; a suburb of Kumasi came to a standstill when ten lucky customers of Fidelity Bank were rewarded for their loyalty in the third monthly draw of the Go for Gold promotion. The draw, which took place at the forecourt of the Suame branch of Fidelity Bank, was witnessed by a huge excited crowed made up of customers, officials of the bank, members of the press and several other onlookers.
Ten lucky customers emerged as winners in the third monthly draw of the Go for Gold campaign. The overjoyed customers upon receiving the prizes, expressed gratitude to Fidelity bank for the initiative and called on their family, friends and colleagues especially those who have not yet joined the Go for Gold train to do so.
In his welcome speech, the Deputy Managing Director of Fidelity bank, Mr. Jim Baiden said "we are proud as a Bank to be making meaningful contribution in the lives of Ghanaians through our Go for Gold campaign. Since we launched the Go for Gold campaign some three months ago, we are happy to say that we have succeeded in drumming home the need for all of us to be financially independent and have a comfortable future. We cannot leave our financial future to chance and expect things to work out for us. That is why Fidelity Bank is still opening its doors to offer every Ghanaian the opportunity not only to enjoy world class banking service, but also to win prizes that will change their lives for good".
In a speech read on his behalf, the Ashanti Regional Minister commended Fidelity bank for their Go for Gold campaign initiative, adding that "the Go for Gold Campaign is undoubtedly a brilliant initiative by Fidelity Bank. This indeed comes to reiterate the fact that they are the new standard in banking. This campaign guides us so that we do not to live from hand to mouth –this is important as we secure our financial future and that of our families. The culture of saving is a habit that is not necessarily new to the Ghanaian, but it is certainly difficult to live by. As we thrive to build our economy and enhance the standard of living of our people, the culture of saving is a principle that cannot be overemphasized".
Eugene Wiafe Acheampong, the first winner, who took home a 42" plasma TV excitedly noted that "I am extremely happy today because of what Fidelity bank has done for me. I was not expecting to win because I thought the numbers will be too many for mine to be selected; but I have seen today that anybody at all can win. This promotion is clean and fair".
The second and third winners, Brenda Kareemah Muhammad and Yvonne Zumah took home a table top refrigerator and a microwave oven respectively; while the fourth to the tenth winners were given souvenirs of the Bank.
With an ultimate prize of a 24-carat 1 kilogram bar of gold and other amazing prizes at stake, new customers are required to open an account and maintain a minimum of GHC300 or multiples of it for one month to get a coupon to enter both the monthly and grand draw. Existing customers alike, have to top up their accounts and maintain a minimum of GH300 or multiples of it for one month to qualify for the monthly and grand draws.
The next monthly draw will be held in January 2011.