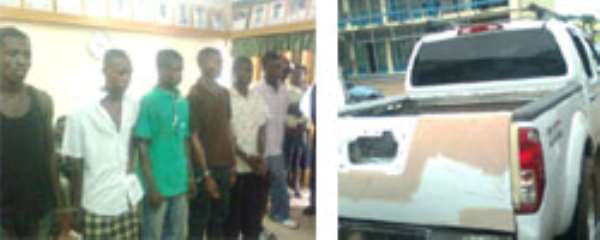 Personnel of the Tema PoliceRegional Command, over the weekend, encountered twosuspected armed robbery gangs at two separate spots within the Ashaiman-Tema Metropolis.
Interestingly, two of the suspected robbers, Alex Kwame Inkoom, 16, and Kwesi Inkoom, 16, who bear the same surname, admitted they were brothers, but declined to say whether they were twins.
Briefing members of the media, the Tema Regional Police Commander, Assistant Commissioner of Police (ACP) Augustine Gyenning, said the first incident took place at about 9:30 p.m. last Saturday, at a spot called 'I shall return' near the Ashaiman police barrier, while the other was along the Tema-Aflao highway.
He said as part of their routine checks, his men at the barrier stopped a white Nissan Frontier 4×4 vehicle which was approaching the barrier, but the driver refused, and the occupants rather opened fire on the police.
ACP Gyenning said his men then returned fire, resulting in the death of one of the robbers.
The Tema Regional Police boss however, declined to comment further, saying, 'This time round, we will not disclose all the information on victims of crimes to the press.'
Giving an account on the incident that took place in the Tema Metropolis, he explained that it happened at about 12:15 a.m. that same day, along the Tema-Aflao highway at the Prampram junction.
He said the police had a call informing them of a road block on that stretch of the road.
On arrival at the spot, they saw six young boys, who had blocked the road, and were in the process of robbing a taxi driver.
ACP Gyenning continued that the police then rounded them up, and conducted a search on them, which revealed locally manufactured pistols and machetes.
Those arrested were Kwame Danso, 23, Kwabena Achempong, 24, Ebenezer Appiah, 23, Kwadwo Nkrumah, 22, Kwasi Inkoom, 16, and Alex Kwame Inkoom, 16.
ACP Augustine Gyenning assured the public that the police in Tema had intensified their end of year operations, to ensure maximum protection for the public to enjoy the yuletide without any incidents. He appealed to Ghanaians to cooperate with the police to ensure maximum security, since the armed robbers and other criminals live in their communities.
He further appealed to Ghanaians to give the police maximum support, saying as much as the police want the public to volunteer information to them, they must try to stay away from crime scenes, in order not to destroy crime scene evidence.
The Police Commander however, expressed shock at the ages of the robbers, which range ranging between 16 and 23, saying, 'If at this age, you intend to survive on robbery, then we have problem on our hands.'