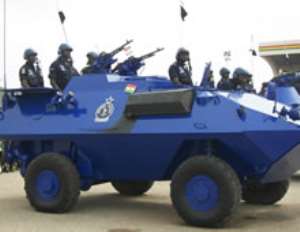 Fifteen students of Ghana Senior High School (GHANASCO) in Tamale have been arrested over rioting last night.
The students cited as some of the reasons for their rioting, the arbitrary seizure of their mobile phones and charging of unapproved fees.
The rioting started Sunday night when students attacked some of their teachers, destroying the teachers' personal effects including television sets, a motor bike and the louver blades of the school's dining hall.
Police officers who were called in to save the situation fired tear gas to disperse the rampaging students suffocating 10 of the students in the process.
The 10 students who collapsed after inhaling tear gas were rushed to the Tamale Teaching Hospital where they are in stable condition. One of the five female students affected by the tear gas has been put on oxygen.
Some of the graffiti on the walls of the school threatened some teachers. Some of the inscriptions read: "MZ in danger of death," "Your mothers," "Munerra, go to hell."
A teacher who pleaded anonymity told Joy News, that prior to the riot, the prefects of the school had written to challenge the decision of the authorities to seize students' mobile phones and threatened to resign their positions if the decision was not revoked.
Their threats went unheeded.
Some of the mobile phones were uncovered from the underwears of female students.
Last year the release of the results of the West Africa Senior Secondary Certificate Examination (WASCE) of students of GHANASCO was delayed because a mobile phone was discovered from a student in a examination centre.
By the time of filing this report, the Tamale Metropolitan Security Committee was meeting with the school's authorities to resolve the impasse.
A source close to the authorities will not confirm if the school will be closed down temporarily in the face of the disturbances or not.



Police reaction


Public Relations officer of the Tamale Police, Chief Inspector Ebenezer Tetteh in an interview with Joy News said the school has been closed.
According to him, the students caused "extensive damage" not only to properties belonging to the teachers but smashed the windscreen of the light armoured vehicle sent into the school to restore law and order.
He said 15 of the students have been arrested and are under investigation for "causing damage and offensive conduct."
They will be prosecuted if found culpable of the offence.
Story by Mahama Shaibu/Joy FM Northern Regional Correspondent/Myjoyonline.com/ Ghana