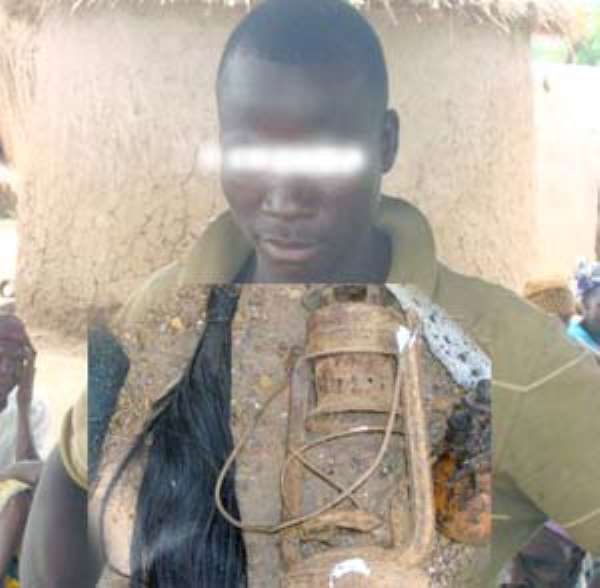 Mboje Kofi

Mboje Kofi, an 18-year-old suspected wizard at the Gnani Witches Camp, near Yendi in the Northern Region, left many in shock when he confessed to using witchcraft to kill people at the age of 10.
According to him, this led to his banishment from Binchera, a farming community in the Nanumba North District at that tender age. He said he has since been living in Gnani with other suspected witches for close to a decade now.
Narrating to DAILY GUIDE reasons for his morbid action, Mboje Kofi claimed he was always verbally abused by a girl he named as Bigneba; but each time he tried beating her up, her relatives protected her.
This, he indicated, hurt him so much that he found it extremely difficult to forgive the little girl and therefore used powers he claimed to have received from another relative to kill her.
He told DAILY GUIDE that relatives of the victim were suspicious that he had a hand in her death and after some spiritual consultations, their fears were confirmed, leading to his banishment and subsequent relocation to the witches' camp.
The suspected wizard admitted he was rendered powerless after being ostracized, claiming that until then, he used the powers to protect himself.
He revealed that he felt powerless now, especially as he lived under deplorable conditions, but feared if he returned to his village, he would be killed too.
Mboje Kofi's confession was not different from that of 55-year-old Chacoja Nnogme, who also claimed that he inherited the powers of witchcraft from his late father, which he used to terrorize the residents of Nakpa.
The suspect also admitted killing some people, leading to his being chased away from the village and later, complete banishment.
He told DAILY GUIDE he used to fly at night searching for victims, particularly people with whom he had personal scores to settle.
Mr. Chacoja said prior to his banishment, there was an unhealthy competition between him and a colleague whose name he gave as Billaga, over succession.
According to him, Billaga was always amassing a lot of wealth for himself which he envied so much and therefore killed him with his spiritual powers.
His victim's relatives, according to him, suspected and fingered him over the death of his colleague and he was dispatched to the camp since its establishment as a witches' camp.
When asked to give a vivid account of how he flew at night and killed some of his victims, he expressed fear, saying he could not do that without mentioning the names of the spirits that aided him.
He indicated that once he had been rendered powerless, if he dared mention the names, he would be struck dead, pleading with DAILY GUIDE to leave the matter at that point.
Mr. Chacoja is currently a peasant farmer in the camp, and during the wet season, he produces charcoal for sale in the lean season.
The chief fetish priest of the Gnani Camp, Alhassan Shei, who took DAILY GUIDE round the place, said the suspects, after being rendered powerless, preferred to stay at the camp, for fear of being lynched in their communities.
He said various items used for the witchcraft, including amulets soaked in human blood, were retrieved from most of the suspects after the purification exercise.
Mr. Alhassan said all inmates had been cleansed of witchcraft and were no longer harmful to society, but was worried about the increasing numbers at the camp.
To this end, he appealed to National Commission on Civic Education (NCCE) and Commission on Human Rights and Administrative Justice (CHRAJ) to embark on a sensitization drive to enable the inmates to reunite with their families.
There are about 10,000 women in various witches' camps in northern Ghana who are living under deplorable conditions.
Several attempts by human rights activists and organizations to have these camps closed down have not yielded any positive response, but analysts say sustained public education is the antidote to the abolition of this long-term outmoded cultural practice.