Babangida 'will not buy top job'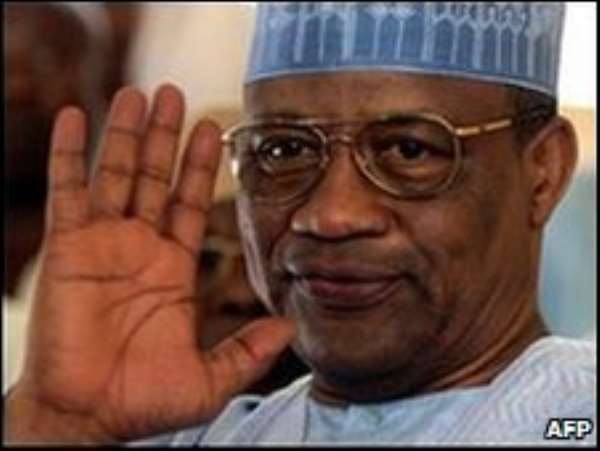 Ibrahim Babangida lost power after he annulled 1993 elections
Former Nigerian military leader Gen Ibrahim Babangida - one of the country's wealthiest men - has told the BBC he will not buy his way to power.
On Monday, he announced his intention to seek the nomination of the ruling People's Democratic Party (PDP) in presidential elections due in 2011.
Gen Babangida, 68, said he had the necessary experience to be president.
The PDP says its presidential candidate will be from the mainly Muslim north, where Gen Babangida comes from.
Speaking to the BBC's Focus on Africa programme, Gen Babangida - known as "IBB" in Nigeria - dismissed any suggestion he might buy his way into office 17 years after leaving the top job.
"You'll be glad to know, I'm the most investigated Nigerian living today," he said.
"Perhaps after 17 years it ought to have come out by now, unless somebody is not doing his job."
He spoke of his determination to run for president for a second time even if the PDP does not select him as their candidate.
"What I am sure of - I can always find one party out of 51 that I can pitch my tent on," he said.
Gen Babangida took power in 1985 in a bloodless coup, but was toppled from power by mass protests after he annulled elections he had organised in 1993 that were widely seen as having been won by a businessman, Moshood Abiola.
The former military ruler defended his democratic credentials and said he could offer Nigerians "leadership and experience".
"I have conducted the freest and fairest - and this is attested by the international community - elections in the history of our country," he said.
"The fact that it was annulled is a different story altogether."
He pulled out of the 2007 presidential election when then-President Olusegun Obasanjo declared his support for current President Umaru Yar'Adua's candidacy.
Mr Yar'Adua, who is from northern Nigeria, has not been seen in public since November 2009 because of his ill-health and is considered unlikely to seek re-election.
Acting President Goodluck Jonathan is from the south and so would not be a candidate under the PDP policy of alternating power between north and south, with each region having two terms.