'Police armed robbers': Police boss blames particular recruits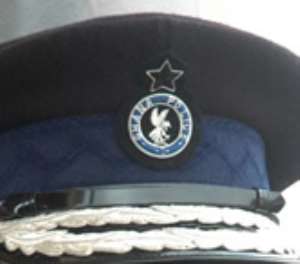 Listen to ACP Augustine Gyening's discourse with Ekuorba Gyasi© Copyright myjyonline
ACP Augustine Gyening, Tema Regional Police Commander has blamed the worrying but rising numbers of policemen involved in robberies on poor recruitment exercises engaged in by the police administration some four and five years ago.
He told Adom FM on Monday that the wayward security men, ranging between Lance Corporals and Constables in rank, were enlisted into the police without the due diligence usually associated with police recruitment.
Confirming the arrest of two policemen said to have engaged in armed robbery at the weekend, ACP Gyening told Ekuorba Gyasi on Adom FM's Edwaso Nsem morning programme that "something went wrong" with the recruitment of that period and that it is those who were recruited haphazardly "who are giving the police the problems."
The two policemen, reported to be part of a Monitoring Unit at the Police Headquarters, were reportedly arrested as they attempted to rob at gun-point, a man they suspected of carrying huge sums of money. The suspects are in police custody, while an accomplice, a civilian, is on the run.
Explaining his point of view, ACP Gyening said ordinarily, recruits are lined-up and examined for physique suitability per police standards, after which selected applicants are subjected to thorough background checks before they are finally enlisted.
This process, he said, was not followed in the case of those he suspects are becoming problematic for the administration. He would however not talk about what process the particular recruits went through, preferring that authorities at the Police Headquarters answer that question because he was not engaged in the recruitment.
ACP Gyening explained that the police administration is retraining some of the personnel and rechecking their background, but those who engage in illegalities would have to face the law.
DSP Kwesi Fori, Police Public Relations Director, said he was not in a position to confirm ACP Gyening's submission. He said however that given the Tema Police boss' status in the police service, he must be familiar with whatever observations he had made.
He said the police administration as a human institution does not claim perfection and has had to reform its recruitment programmes from time to time based on careful evaluation.
Six policemen and their four civilian accomplices were in November of 2009 sentenced to 20 years jail terms each for robbing a businessman of his money, also at gun-point, while on Tuesday, another policeman was arraigned before court at Techiman for selling three AK47 assault rifles belong to the police.
Several such criminal activities, including violent crimes, abound among security personnel, whose primary duty is the protection of lives and property and the maintenance of peace.
Story by Isaac Yeboah/Myjoyonline