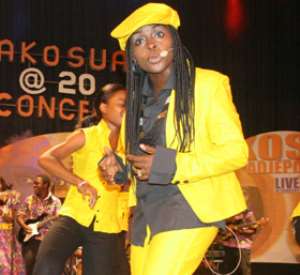 Akosua Agyepong
LAST SATURDAY, music fans from all walks of life took to the dance floor as Akosua Agyepong and her band dazzled them.
Obviously fascinated by Ms. Agyepong's contemporary Ghanaian rhythm laced music, fans remained on the dance floor throughout her entire performance.
The concert, held at the Accra International Conference Centre, was organised by Media Excel to celebrate Akosua Agyepong's 20th year in the Ghanaian music industry.
Ms. Agyepong started the show with a gospel song and was supported by dancers who displayed beautiful choreographic moves to the delight of the audience.
Akosua's performance attracted a standing ovation as the mesmerised crowd jumped to their feet and simply asked for more, especially when she began performing one her favourite traditional highlife songs, 'Frema'.
Dressed in a yellow coat over a black shirt and yellow trousers with black boots to match, she was just unstoppable.
Seasoned music stars that supported Ms. Agyepong included Bessa Simon, Stephanie Benson, Asabea Cropper, Rex, King David, Becca, Tagoe Sisters, A.B. Crentsil, Gyadu Blay Ambolley and a host of others.
The sensational Becca performed renditions of some of her hit-tracks such 'Daa Ke Da', You Lied To Me among others.
It was a hilarious spectacle as the prolific afro pop musician treated the excited audience to some serious dance moves on stage. She was among the best as she took music fans by surprise with her live band performance.
Ace musicians Gyadu Blay Ambolley, A.B Crentsil, Asabea Cropper and Bessa Simon were superb on stage such that they sent fans dancing and singing in appreciation.
King David, another enterprising Ghanaian musician, was at his best as he set the stage on fire with his choreography. He was consistent as he got the crowd going throughout his performance.
He started with several songs from his old basket like 'Ayefenotse' and moved on to a couple of new ones including Born To Win.
Akosua Agyepong, who became a household in the early 90s, was discovered by Nana Kwame Ampadu I.
Born in Accra on November 17 1959, Akosua Agyepong started composing songs at a young age. After being discovered by legendary Nana Kwame Ampadu, she subsequently came out with her first album 'Frema', which was released on January 1, 1990.
Her second album, 'Esiwa', included mega-hit song 'Kokokoo'. Her third album was with music group NAKOREX, which was made up of herself, Nat Brew and Rex Omar.
Ms. Agyepong has five albums to her credit, one in collaboration with NAKOREX and another as a member.
The group released two albums which included popular hit song 'Kpanlogo'. She later turned to doing gospel music.
A compiled version of Akosua Agyepong's major songs was released and auctioned, with the first copy going for GH¢2000.
 By George Clifford Owusu