Cocoa smuggling continues despite price increases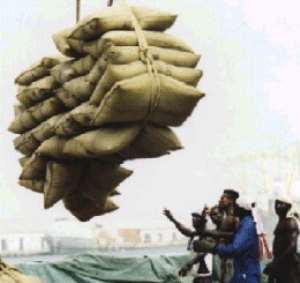 Hohoe (Volta Region) - In spite of the increase of producer price of cocoa from 387,500 cedis to 531,250 cedis per a bag of 64 kilograms, smuggling activities of the commodity is still high in some parts of the Volta Region.
A survey conducted by the Ghana News Agency (GNA) on Monday revealed that although some cocoa farmers in the region welcomed the new prices announced by government last Friday, some hardened smugglers were still engaging in the illicit trade along the country's borders with Togo.
It was also revealed by some farmers that smugglers from Togo were buying a bag of 64 kilos of dried cocoa beans at 750,000 cedis as against the new price of 531,250 cedis, a difference of 218,750 cedis.
A farmer said smugglers, who parade farm gates with hanging scales were buying a kilo of the produce at 1,000 CFA.
A Marketing Officer of the Produce Buying Company (PBC) alleged that cocoa farmers at Ayoma and Baika in the Jasikan District and Likpe in the Hohoe District were selling their cocoa to smugglers.
A farmer told the GNA that they were enticed by the high prices offered them by the Togolese. He called on the government to consider increasing the price of cocoa to 750,000 cedis as being sold in Togo to prevent the smuggling of the produce.
When contacted, Mr. Kwesi Bediako-Addey, Volta Regional Manager of the PBC, said he had received various complaints from most of his marketing clerks that smugglers were buying cocoa from the farmers, especially at cocoa societies along the country's borders with Togo.
He, therefore, called on law enforcement agencies to help combat the smuggling of the produce in the region. Mr Kofi Agyei-Ntim, Kadjebi District Chief Executive (DCE), at the Regional Farmers Awards day at Kadjebi last week, called on his colleagues in the region to form anti-smuggling task force to combat the crime that was gaining grounds in the region.
He said the Kadjebi District Security Committee (DISEC) has formed an anti-cocoa smuggling task force that patrols cocoa producing areas in the district.
He has, therefore, called on (DCEs) in the region to encourage the formation of such task forces, adding that they should find a way of motivating them.