Gambia Killings: Jammeh presents package to Mills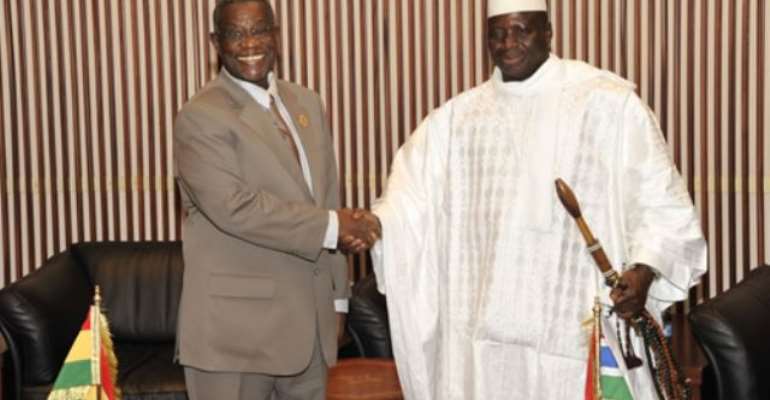 A government delegation from The Gambia is in the country to assist in the burial of six Ghanaians who were murdered in that country in 2005.
The seven member delegation, led by the Gambian Minister for International Cooperation, Ousman Jammeh, called on President John Evans Atta Mills at the Castle, Osu yesterday, to inform him of the Gambian government's package of assistance towards the burial of the six murdered victims.
Although the details of the package were not disclosed to the media, Mr. Jammeh said in his introductory remarks at their meeting with the President that the Government of the Gambia was fully prepared to support the Ghanaian government to give the victims a befitting burial.
The exhumed bodies of the six Ghanaians killed in the Gambia were brought to Ghana on October 20 last year.
The repatriation of the six bodies followed a series of negotiations between Ghana and the Gambia over the alleged killing of some 44 Ghanaians in July, 2005 while passing through the Gambia in search of greener pastures.
The matter, .which nearly marred relations between the two countries, took an international dimension as ECOWAS and the United Nations put up a fact-finding team whose report recommended that the bodies be exhumed and given a decent burial on their home soil. However, only six bodies of Ghanaians were found.
Mr. Jammeh, who delivered a special message from the Gambian President, Yahya Jammeh to President Mills, thanked Ghana for the cooperation and patience in the matter, and expressed the hope that the relations between the two countries would continue to improve.
He expressed regret at the incident, and noted that measures were being taken to prevent its recurrence.
President Mills, in his brief remarks after which the rest of the meeting was held behind closed doors, also expressed appreciation to the' team that worked on the matter, and noted that Ghana was committed to increasing its bilateral cooperation with the Gambia.
Another guest at the Castle was Ambassador Cherif Aidara, a special envoy from Burundi, who called to deliver a special message from the Burundian leader, Pierre Nkurunziza to President Mills.
Ambassador Aidara extended well wishes from President Nkurunziza to President Mills, saying it was the desire of the Burundi government to have more cooperation with Ghana, which was playing a pivotal role in the advancement of good governance in Africa,
The details of the message were not disclosed.