Berlusconi Attack Was Premeditated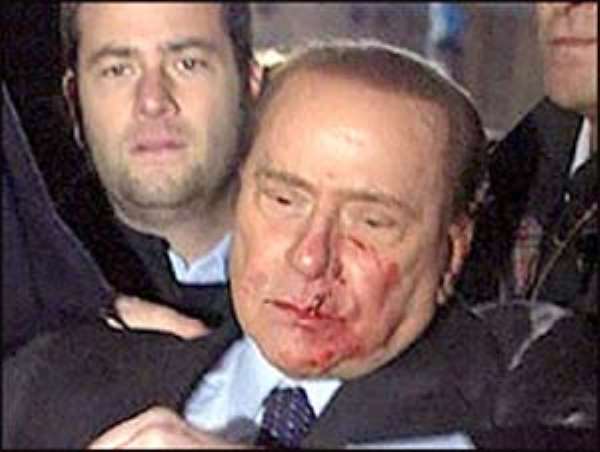 Italian Prime Minister Silvio Berlusconi
An attack on on Sunday was premeditated, Italy's interior minister, Roberto Maroni, has said.
Mr Maroni said the suspect, named as Massimo Tartaglia, had been "developing a rage" against the PM "for some time".
Mr Berlusconi, 73, suffered a broken nose, cuts and two broken teeth after being hit with a model of Milan cathedral after a rally in the city.
He is to leave hospital on Wednesday with orders to rest, his doctor said.
The prime minister's personal physician Alberto Zangrillo told journalists on Tuesday that Mr Berlusconi had been ordered not to carry out "important" public activities for two weeks.
Mr Berlusconi has already cancelled plans to attend the UN climate summit in Copenhagen.
"Physically, he is eating normally, but with a bit of difficulty," Mr Zangrillo said. "In terms of morale, it's still a matter of concern... but he is showing signs of recovery."
He said the prime minister had spent "a quiet night" at the San Raffaele hospital in Milan.
Mr Maroni said the assailant had been in the square in Milan for some hours ahead of Mr Berlusconi's arrival "to prepare for his mad action".
"He was equipped with pepper spray and also a resin crucifix," he said.
"He had been developing a rage against the prime minister for some time."
Mr Maroni said the attacker didn't belong to any political group and described him as unmarried and suffering from "paranoia".
He said an investigation into the incident had been launched.
The attack led to criticism of the security surrounding Mr Berlusconi, but Mr Maroni said police check every area visited by the prime minister well in advance.
The minister also commented on Italian media reports that two members of the public had warned police of Mr Tartaglia's behaviour before the attack.
He said the two had been interviewed and they had only reported "a mad person who was disturbing passers-by".
Earlier, lawyers for Mr Tartaglia, who reportedly has a history of mental illness, said he had apologised for his "cowardly and rash act".
Source: BBC