What Ghana Can Be Using Its Oil Money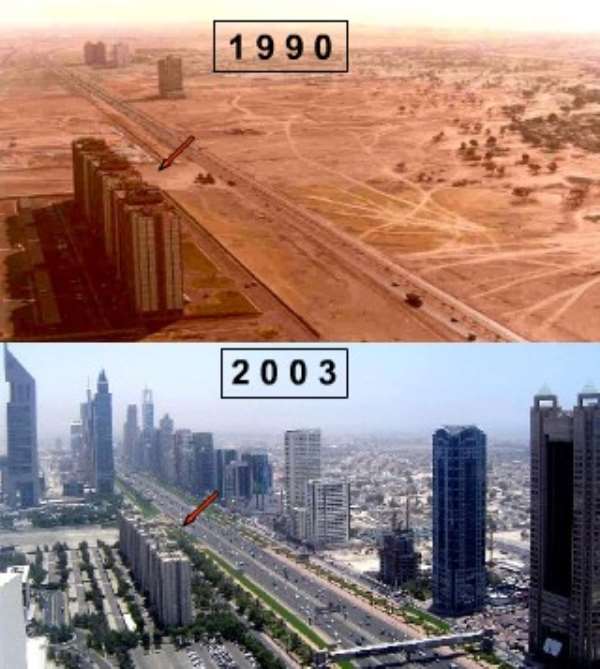 United Arab Emirates
This is what Ghana can become if our politicians stop stealing our money and plan faithfully to push the country forward. The country needs selfless, visionary and patriotic leadership. We do not need politicians who become rich overnight while Nima, for example, remains what it is for decades. Ghanaians must be exposed to developments taking place in other parts of the world so that they do not accept the status quo of third world standard of development. We need politicians who would put the country first, other than their political parties. The following are pictures of development over a 15-year period in the United Arab Emirates using OIL money judiciously.
Here something a little bit different from my usual blogs on Dubai Property and the real estate market over here. Having lived in the U.A.E. for quite some time now I have certainly seen the Country change so much in particular the buildings and landscape.
Here are some of my favourite photo`s, image`s and picture`s, I do hope you enjoy them and it gives you an insight into what the Country is like if you are an outsider.
U.A.E.
The U.A.E. or United Arab Emirates as it is known as was formerly a trading hub in the Gulf and now is more famous for it`s oil output, hotels and shopping!
The Dhow as it is known locally is the old shipping boat that is still used up to this day.
Here is a great image and one of my favourites, this really gives you an idea of the growth that has happended here in a short space of time. Old Dubai vs NewDubai in 13 years.
Here is a map of the U.A.E. showing all the surrounding Countries and also the different Emirates within.
This is the national flag that is flown proudly all over the Emirates.
Lastly in this section is the National currency also known as the Dirham these come in some really big nominations such as 500 or even 1000!
Emirates
This is really the same as the U.A.E. just as not to confuse things! Here are pictures of some famous landmarks
The Burj Al Arab the first seven star hotel on the World. This hotel is like no other I have been in before if you are ever in Dubai you must go and take a look it really is mind blowing!
You can never have too many pictures of the Burj in a photo gallery so here is another you cant really appreciate the size of it but it`s big very BIG.
Of course the Emirates is really one big desert although if you were in the City it`s hard to believe not far away there is sights like this… There are many tours you can go on to have this experience.
This is an old picture showing how life used to be before Dubai flew into the fast lane it was a sleepy tranquil and very hot place to be.
Dubai
Let`s move into the City now and see why this Country has been made so famous, well if you like sun, shopping, fine dining and a very high level of luxury this is the place to be seen. I chose this image as it shows the built up areas close to the coastline and also the projects offshore such as Palm Islands and the World.
Here`s what most people do in their leisure time, relax at the pool and take in the sun and why not!
Here is a close up of the heli pad on Burj Al Arab this was made famous when Agassi and Federer played a game of tennis up there a few years ago and was aired all over the World for the highest game ever!
Lastly in this section a road sign to Abu Dhabi as thats where we`re heading next in the background of this image is the Emirates Towers it`s also an amazing design and was a first for the City on such a grand scale.
Abu Dhabi
Everyone assumes that Dubai is the capital of the U.A.E. but it`s not actually Abu Dhabi is. This very oil rich neighbor down the road hardly get`s any attention that was until one of the City developers recently bought Manchester City football club!
The City is not as big as Dubai and there is a real shortage of quality housing there something which is about to change with the announcement of freehold property.
The City boasts an amazing golf club that attracts many of the Worlds best players, it`s amazing how they keep the grass so green in such ultra hot conditions.
There is a new hotel there called Emirates Palace here is an arial shot of it`s grand gardens, again another hotel trying to take luxury to another level, I think they may have done just that.
Burj Dubai
This is now officially the Worlds tallest building and has been the talking point of many conversation in Dubai over the last few years, its not surprising as you can usually see it from wherever you are located.
Here is a shot later on in the construction cycle and from above.
And lastly a more recent shot with the glass panels intact and the final shape of the tower which is like a needle.
Dubai Hotels
I would say the City now has arguably some of the finest modern hotels in the World right now and that is no mean feat considering the Global competition.
First up is the Fairmont.

Next is the Emirates Towers as mentioned before.

Next is Jumeirah Beach Hotel and the smaller sister of the Burj Al Arab
And finally when I mentioned luxurious before here is an example of what I mean an interior room
Dubai Homes
Since the Dubai property market was announced as freehold in 2002 there has been a frenzy of buying, selling, flipping properties to make it the most dynamic market in the World.
There are a range of villas and apartments that are springing up all over the City to pave way for the influx of residents.
Many come with private pools or are beachfront properties.
Others come with golf course views or lake views in nice communities these homes are great for families with kids as there is so much to do.
Dubai Jobs
In the past few years everyone has seemed to want to get a job in Dubai as it seems such a good place with tax free earnings and excellent weather year round.
If you are looking for a job in Dubai it is best to search online first if you are overseas.
If not buy a book! There are many out there that are a really good read.
If all else fails pick up a copy of the two local newspapers Gulf News or Khaleej times they are jam packed with jobs week in and out.
Dubai Map
This is the last section of my blog and I really hope you have enjoyed reading the info and viewing some great images and photos. If you want to visit or get around the City here are a few maps that will help you along the way.
These maps are focused around the centre of Dubai which is known as the creek and where the dhows moor.
Some of them have more detail on them than other and known landmarks that you may be looking for
And finally a map of the Dubai Metro and the first I have actually come across, The Dubai Metro will hopefully ease the traffic problems that are in the City.
Thank you.