VRA settles debt to Cote d' Ivoire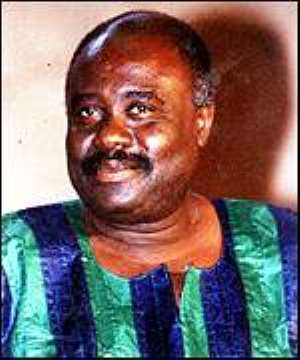 THE Volta River Authority (VRA) has settled its indebtedness of $45 million to its Ivorian counterpart, Compaignie Ivorienne du Electricity (CIE), of Cote d'Ivoire.
The amount represents outstanding debts for the importation of power from January 2000, to July, 2001.
The Chief Executive Officer of the VRA, Dr Charles Wereko-Brobby, who disclosed this in an interview in Accra yesterday, said the settlement is in fulfilment of the commitment made by President J. A. Kufuor to his Ivoirian counterpart, Laurent Gbagbo, that the government would settle "the enormous debts it inherited from the NDC administration within one year".
He said the VRA also entered into agreement with a number of local banks to arrange a $30-million facility to enable it to pay regularly for current power purchases from Cote d'Ivoire.
He said this will ensure that there is no recurrence of the pile-up of debts for power imported from that country to meet the shortfall in supply due to the low level of the Volta Lake, this year.
"The restoration of full commercial relations between VRA and the Compaignie Ivorienne du Electricity (CIE) has been a principal factor for the fact that VRA has been able to meet the country's full power supply this year in spite of the fact that the Akosombo and Kpong Dams could only produce about half of the country's needs," he stated.
Dr Wereko-Brobby explained that a mix of thermal generation at Takoradi and reliable and assured imports from Cote d'Ivoire, have combined to ensure that for the first time in the country's history, low inflows into the lake has not led to any load shedding and major disruptions to the country's electricity supply.
He said VRA's indebtedness to CIE, which had built up since the 1998 power crisis, had been a major impediment to the authority's ability to make full use of the power exchange arrangements that have existed between Ghana and Cote d'Ivoire since 1983, to provide stable and reliable power to its customers.
He said, "The debt delayed the conclusion of financing arrangements for the construction of the Prestea - Obuasi transmission line which would have allowed the Takoradi Thermal Power Plant to operate at full capacity and thus reduce or even eliminate the need for the importation of power altogether".
Dr Wereko-Brobby said the VRA is building the Prestea - Obuasi line from its own resources at a total cost of $8.5 million.
He said construction works are expected to be completed by April next year and will ensure reliable supply of power to all the major mining companies and industries in the Western Region.