'Mills Is A Poodle!'…Says CPP's Kabila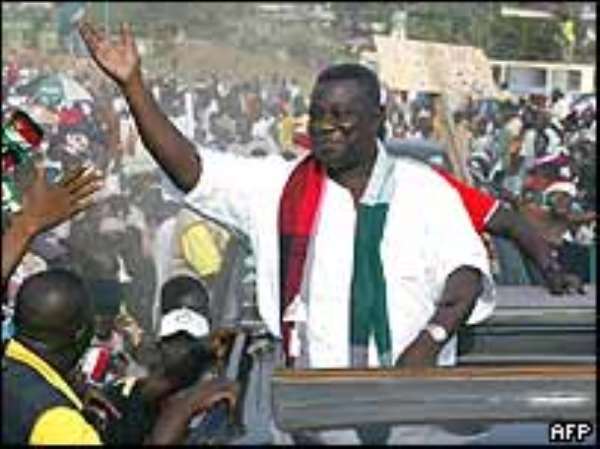 The National Youth Organiser of the Convention People's Party (CPP), Mr. James Kwabena Bonfred Jr, has blistered President Mills, accusing him of being 'insincere and dishonest' and a poodle!
Mr. Bomfeh, popularly known as 'Kabila' who is also the Spokesperson for the Alliance For Accountable Governance (AFAG), says President John Evans Atta Mills is wavering and drifting very dangerously like a rudderless ship and needs to be salvaged.
He was speaking to Modernghana.com in an exclusive telephone interview in reaction to the President's directive that 'all party members who have been given appointments at all levels to make space to enable party members with genuine grievances and legitimate demands to have access to them to enable them to receive attention.'
According to the AFAG Spokesperson, such a directive "…betrays the president's insincerity of being 'father for all' and shows his disingenuousness toward the citizenry."
He asked rhetorically, 'why should a president of the whole country order his ministers and other appointees to render a preferential treatment to members of his party?'
He observed that this was not the first time that foot soldiers of a political party have been disenchanted.
According to him, during the Kufuor administration, foot soldiers of the New Patriotic Party (NPP) were said to have been disenchanted and frustrated but Kufuor did not issue any such 'deceitful and dishonest directive.'
He observed that what the then president did was to follow the laid down constitutional procedures in resolving such issue of disillusioned party members 'by being fair to all.'
According to the youth organizer, President Mills's action betrays his mindset and lends credence to the fact that he is bowing to external pressures from within the party, thus making him a poodle!
"Mills is bowing to the whips of people like ex-president Rawlings and his wife Nana Konadu Agyemang Rawlings, Spio Garbrah, Alban Bagbin, et cetera," he observed.
"All this shows that Mills is an insincere president who can be whipped by an ordinary footsoldiers and therefore does not deserve to be a president," Mr Kwabena opined.
Mr. Kabila has observed that both opposition and the National Democratic Congress (NDC) members are not enthused about the way the Mills-led government is running the affairs of the State.
"He is wavering, prevaricating, and drifting in a very dangerous manner like a rudderless ship and needs to be rescued from perishing," he added.