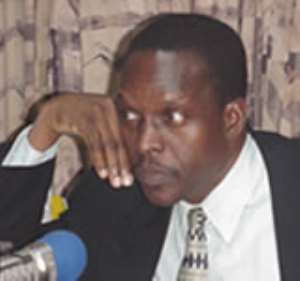 Minority leader and MP for Nadowli North, Alban Bagbin says former President Rawlings does not pose any threat to the stability of the nation and therefore asked Ghanaians to stop thinking along those lines. "All kinds of motives have been read into the dash back to Ghana from Botswana by the former president. It was simply in character for him to want to be where he felt he could be of assistance to an aide if such assistance was needed; the newspaper quotes Bagbin as saying.
It is the same loyalty and concern for the welfare of his aides that drove him to ask the Court Martial trying him for his life in 1979, to punish him instead of his subordinates, because they were acting on his orders, Bagbin said, adding "anyone who knows the former president will tell you that he is loyal to a fault".
The vocal minority leader said Rawlings was conscious of the verdict of history and wanted the country to remain a stable democracy. "The former president accepts that the vast majority of Ghanaians prefer to choose their own leaders.
"He is a patriot who loves his country and would not do anything to destabilise the current government. Why do you think a man who has suffered sacrificed virtually all his adult life to keep his country stable would want to turn back the clock of progress?"
Bagbin noted further that Rawlings handed over power to President Kufuor precisely because he respects the wishes of the good people of Ghana. Flt. Lt. Rawlings's understanding of the demands of building a modern nation-state has matured because of his long experience as Ghana's leader."
He is aware of how difficult and painful it is to build a country and how easy it is for a country to be destroyed. He has seen the descent into chaos by countries like Liberia and Sierra Leone and how difficult those nations are finding it to rebuild.
Why do people think he wants Ghana to be destroyed? Bagbin asked, adding politicians must stop making him an effigy for their failure and concentrate instead on improving the living standards of Ghanaians.
On the role of NDC Members of Parliament, the minority leader said there is general understanding that they concentrate on their parliamentary work and as much as possible, not contest for positions in the national executive at the party congress.
"We feel the work of the legislature demands the full attention of members, if our work is to make a difference to the lives of the masses," Hon. Bagbin said.