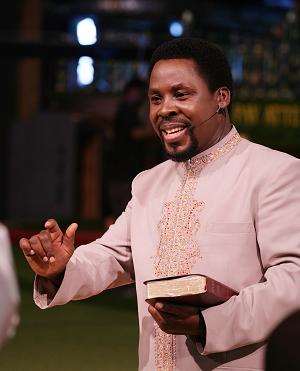 As the Nigerian 'Super Eagles' grounded to a disappointing draw in their crucial World Cup qualifying match with Tunisia, little did they know that Pastor TB Joshua had symbolically revealed the result several hours before kick-off…
Disclosing the prophetic revelation he received the night before, the famous Nigerian cleric spoke to a packed auditorium at The Synagogue Church of All Nations (SCOAN) on Sunday 6th September 2009 in a service watched by multitudes worldwide on Emmanuel TV. It was approximately 8am. "Yesterday, I kept hearing, football, football, football," he said, much to the delight of the avid football fans in the crowd. "I said, 'God, what is this football all about?' And the Lord showed me everything from the beginning to the end. It came to a stage that the host of Heaven were the ones playing football - because the whole thing was tough. So, both sides – nobody played ball again. But who are these people playing football? I could not see any players again because it was tough to decide. So, both sides that were playing football – it got to a stage – the whole thing was just – here is balanced, here is balanced. But decision - what is decision? It's like, both sides left the field. They could not take a decision – who is the most powerful among the two. So, it got to a stage, okay, go and sit down, go and sit down. I will not say more than that."

As the people pondered on the prophetic and parabolic words from TB Joshua, Nigeria and Tunisia walked onto the pitch at the National Stadium, Abuja several hours later at 5pm, egged on by 60,000 fervent fans. In a closely fought contest which saw Nigeria take the lead on two occasions through Osaze Odemwinge and
Michael Eneramo, Tunisia grabbed a vital equaliser in the dying minutes of the second half to seal a 2-2 draw, drastically denting Nigeria's World Cup aspirations in the process. The stalemate saw Tunisia maintain pole position in their qualifying group with only two games remaining, Nigeria left to bank on the Tunisians stumbling against either Kenya or Mozambique to ignite any hope of going to South Africa in 2010. As the prophet had said, the match was both a tough and balanced affair, neither team proving powerful enough to secure the decisive victory.
Not the first revelation relating to the field of football, it is on record that TB Joshua had also accurately spoken of the 2008 African Cup of Nations quarterfinal encounter between Nigeria and Ghana. "I'm just seeing 5 minutes," said the prophet in the service of Sunday 3rd February 2008, indicating that something significant would happen within such timeframe. He also made the sign of the number '1' in the air, symbolically conveying the margin by which victory would be achieved. "You should not allow anything to affect your joy today," Joshua told the stunned Nigerian supporters, calling on them to 'take heart'. True to the prophet's words, it was in the last five minutes of the first and second half that Ghana equalised then scored the winning goal in the game that was played later that day, Ghana triumphing 2-1 to send Nigeria out of the cup.
Prophet Joshua's teacher in Primary School, Mrs Margaret Tolani Adejumo, testified that this prophetic insight started right from childhood, the young Joshua often predicting the outcome of local football matches with remarkable accuracy and consistency, earning him the nickname 'small pastor'.
TB Joshua's prophetic ministry continues to garner growing patronage, his recent proclamations concerning the deaths of legal luminary Gani Fawehinmi and iconic pop legend Michael Jackson both making headlines across various print and online media. In his Sunday services broadcast live on Emmanuel TV, he prophesies not only of forthcoming events, but also to individuals present, oftentimes disclosing details they have never relayed to anyone else.
Ghana / Africa / Modernghana.com
Originating at www.allvoices.com