I Won't Insult JJ —Kufuor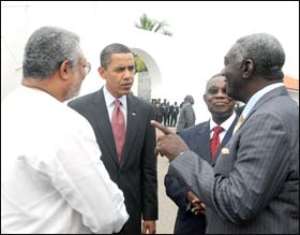 Kufuor making a point in a discussion with Prez Obama, Mills and Rawlings
Former President John Agyekum Kufuor, in a rare exposé yesterday, denied ever insulting his predecessor, ex-President Jerry John Rawlings, as he offered Ghanaians an insight into the no-love-lost relationship between him and the one-time Air Force pilot.
Former President Kufuor was speaking in an interview on Citi FM when the subject was put forth by his host, Moro Awudu, prompting him to recall how the man with whom he had breakfast during US President Barack Obama's visit to the country last week, had said nasty things about him on radio stations outside the country.
Former President Kufuor, when reminded about his predecessor's comments on the BBC some hours before they shared breakfast, replied sarcastically that he did not hear the remarks.
Ex-President Rawlings had earlier spoken on TV3, remarking that he could not tolerate "that guy", adding later on the BBC that he "would only pretend to smile when we meet".
"I did not hear the comments. But he was smiling when President Obama asked us to take a group photograph," former President Kufuor said.
Rawlings, he said, asked that they changed positions because the first shot had him (Kufuor) standing closer to Obama.
"Kufuor, let us change positions, do not upstage me," Kufuor recalled Rawlings' comments. Even after the friendly interaction between them, Kufuor said Rawlings was bantering him the next morning.
"There should be mutual respect between the two of us. How often do you hear me talking about him? I am open," former President Kufuor said, adding, "He has been the longest serving head of state in this country. Not even Nkrumah served that long".
Former President Kufuor promised that he would always accord his predecessor due acknowledgement and expects reciprocity from him also, as he asked rhetorically, "Ask him whether he is ready to respect me."
When former President Kufuor was told that his predecessor had charged that he has always said bad things about him (Rawlings), he said, "Ask him who started the process. Once a person, through the people, ascends the highest office of president, you are bound to accord him due respect."
The Former President spoke about how Mr. Rawlings goes on radio to hurl invectives at him in sentences like "he is incompetent, he is a disgrace and so on."
He said he does not bear Rawlings any grudge: "People may not believe it," he said and hoped that "things could be better between us".
The relationship between the two living former presidents of Ghana has been a subject of discussion and sometimes gossip, in both political circles and outside it for a long time now- a development fueled by the near incessant pouring of invectives by the National Democratic Congress (NDC) founder on his New Patriotic Party (NPP) counterpart.
Prior to the epoch-making Obama trip, Rawlings accused the erstwhile Kufuor regime of being the most corrupt in the country's history when his opinion about the visit was sought on a BBC world service programme, having a few hours earlier poured similar scorn on his successor.
For those who heard him state that he would only pretend to smile when the two met at the Castle breakfast, pictures which showed them pose for a picture belied the truth about the relationship between them.
Former President Kufuor appealed to Ghanaians to give President John Evans Atta Mills a chance since he is just sixth months into the presidency.
"Don't let me be judgmental about Mills. He is only 6 months at the presidency.
Times are hard," he said, adding that even the developed economies are in dire economic straits. "One can understand young economies like ours. We must wait and see his performance."
The incumbent administration rushed into making political statements, which have been refuted by the international community, he said, explaining that "Ghana is the cynosure of good governance. They cannot deny this. What they have come to find, let them build upon it."
About his impression on the Obama visit, he said he was happy about it, as he considered as top priority, the fact that "the son of Africa has come to inspire us about the possibility of making a headway when we set out to make achievements".
With what he considered a marginal difference between the NPP and the NDC during the last polls, he said the former can win the 2012 when certain measures are taken to ensure unity in the party.
On whether he has missed the presidency, he said there is nothing like that having exhausted his two terms.
"I feel fulfilled."
By A.R. Gomda