June 10, 2009
|
Regional News
Sogakope Bridge Now Death Trap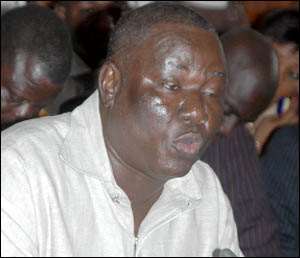 Joe Gidisu Concerned inhabitants of Sokpe and Sogakope towns in the South Tongu District of the Volta Region have appealed to the Ghana Highways Authority to quickly visit the Lower Volta Bridge; built 42 years ago to enable them assess and repair the rusting expansion and contraction joints on the bridge.
They described the bridge as a death trap to both motorists and passengers, as the iron bars in the joints are rusting, with the rubber bands seriously damaged.
When the South Tongu District Assembly was contacted, the District Co-ordinating Director, Mr. E.K. Deffor, and the District Engineer, Mr. Vicente Akakpo, both confirmed that the assembly was aware of the current situation of the bridge and had written letters to the Ghana Highways Authority in Ho, who only came to do some checks but nothing had been done about the situation..
The 650metres Bridge, built by two German contractors, A.H.I. BAV AG DVSSEL DORF HELD and FRANCE-BAV AG. MVNICH, between January 1965 to January 1967, linking Southern Volta and other West Africa countries, had seen some repairs in recent years. However, it has been observed that the culture of regular and constant maintenance had eluded this structure. The worrying part was that, the increased volume of traffic on the bridge, including heavy duty trucks day and night, had caused severe wear and tear on the bridge.
During some days, especially at weekends, the bridge always experienced long queues, a situation described by experts as very dangerous. Mr. John Amaglo, a consulting engineer who witnessed the heavy traffic on the bridge and the damaged portion, expressed shock and worry at the situation. He said traffic had been on increase on the West African corridor and therefore urged the authorities to quickly do the necessary repairs to avoid an imminent disaster.
From Amos Amaglo,  Sogakope