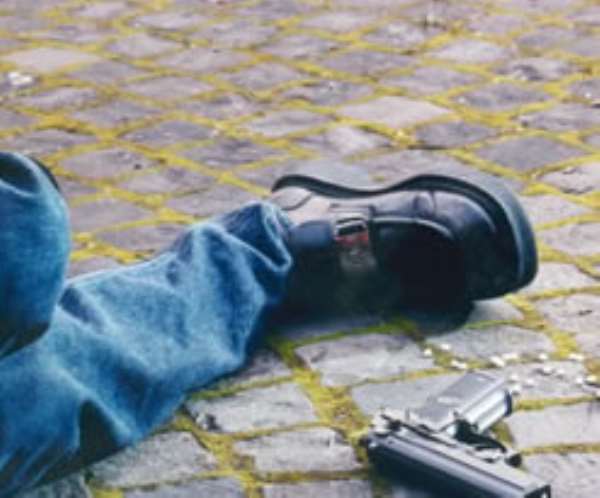 THE ASHANTI Regional Police Commander, DCOP Patrick Timbillah, has given early indications of how his administration intends to deal with criminals in the city, after a police patrol team engaged in a shoot out with some armed robbers at Sawaba, a suburb of Kumasi, killing one and injuring the other accomplices.
The deceased, together with three of his colleagues who are currently on the run, reportedly engaged the Buffalo Unit of the Asawase Police, which was on a night patrol, in a Hollywood-style shoot out in the early hours of Friday at Sawaba, near Aboabo in the Asawase constituency, after being suspected of embarking on robbery operations.
Briefing the media at the Regional Police Headquarters, DCOP Timbillah said at 12:30 a.m. last Friday, the police on their usual nocturnal patrols, spotted a taxi cab at Sepe Dote, with only the driver, and after few questioning and inspection, allowed him to go.
DCOP Timbillah continued that a few hours later, the same car was spotted at Sawaba, this time around with four more passengers, including the driver, but the number plate had been removed, ostensibly to conceal the identity of the car.
Upon seeing the approach of the unregistered car, the personnel of the Buffalo Unit signaled the driver to stop, but he failed to heed the order, and in the process, the occupants of the vehicle started firing at the police, who also instantly responded killing one of them, and injuring the rest.
He said the robbers quickly left their dead colleague, and run out of the vehicle into a nearby bush.
A rifle and three live cartridges were found on the deceased, who coincidentally had been listed as a wanted criminal by the Ashanti Regional Police, for his involvement in a previous case of armed robbery.
DCOP Timbillah said in the ensuing gun battle, one of his men was injured by the armed robbers, and was currently responding to treatment at the Komfo Anokye Teaching Hospital.
The Regional Police Commander has appealed to health institutions and the general public to be on the look out for these criminals, who may probably visit a health centre to seek medical care.
He has subsequently warned criminals and unscrupulous elements in the metropolis, to prepare for more action, because according to him, he would not deal kindly with any group of persons or individuals who decide to disturb the peace of residents in the region.
"Let the robbers know that we shall this time round, take the fight to them, and we would not allow them to rest until they are all flushed out of the system," he warned.